NEXT STORY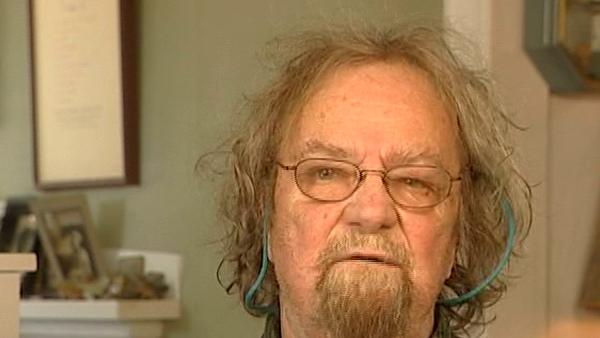 A rather unimpressive second term at Exeter
Exeter, poems and publication
1
2
3
4
5
...
12
I really disliked the social feeling of Exeter. It was all males and it was wartime, and a... and a little town... all males. There was alot of bullying and a tremendous amount of conformity. I decided publicly not to conform. It was a totally republican school... I was... it was the end of my first year when Roosevelt died in office and the boys made a snake dance to celebrate Roosevelt's death,,, they all came from such republican families, and suddenly at the front of the dance somebody said, 'Oh my God, Truman', and they stopped dancing. So I subscribed to the weekly version of the communist paper, The Daily Worker and when The Worker arrived in my mailbox, I would take it down to the butt room where everybody gathered to smoke and open it up so that everybody could see I was reading The Worker. I mean I was not a very popular kid but I was certainly courting it as much as I could. And the great social event of the week - the only social event of the week - was a movie for the entire school in the gymnasium on Saturday nights, and I went once maybe, but then I stayed home, and I was all by myself- I had my solitude again. I was the only boy, at any rate, in the dormitory and I worked, I say I worked, I wrote on poems... I worked on poems while I was there, and I continued this total dedication to being a poet. I forgot to say earlier that even when I was 14 before Exeter, I had started sending poems out to magazines. I got plenty of rejection slips from The New Yorker and The Atlantic Monthly. One from The Nation came with somebody's note on it, saying if you really are 14... so I had been bragging about my age... you know if you really are 14, you're not so bad. But just as I got to Exeter, a little magazine started to print some of my things, and the first ones I remember selling were poems written here about the farm, about haying... haying with my grandfather... this was the poetry place so much... I worked when I was in Connecticut, I worked when I was at Exeter, but up here, where... there were no other kids, where I could hang around with my grandparents and have some time alone in my room, I wrote poetry and I wrote about this... this place. I wrote about Summerholt. I wrote about the, you know, elegy of it... the old culture here, and those poems began to come out when I was first at Exeter when I was 16, and you know when I first published in a non school magazine, and so on, I thought... I was very excited... I thought I was about to get the Nobel prize or something. But then I read the magazine more carefully and realized these weren't very good magazines, and maybe my poems were not very good either.
The 14th US Poet Laureate Donald Hall (1928-2018) was educated at Phillips Exeter Academy, then earned a bachelor's degree from Harvard in 1951 and a BLitt, from Oxford in 1953. He published many essays and anthologies of both poetry and prose including String too Short to be Saved: Recollections of Summers on a New England Farm, White Apples and the Taste of Stone, Without: Poems, and Ox-Cart Man, a children's book which won the Caldecott Medal. Hall was editor of the magazine Oxford Poetry, literary editor of Isis, editor of New Poems, and poetry editor of The Paris Review. He won many awards, including two Guggenheim Fellowships and a Robert Frost Medal. At the end of his first Oxford year, he also won the university's Newdigate Prize, awarded for his poem Exile.
Title: Exeter, poems and publication
Listeners: Kendel Currier
Kendel Currier started working for Donald Hall in August of 1994 as his correspondence typist. Later she took on his manuscript typing as well, and in October of 1998 moved 100 meters down the road from Donald and became his personal assistant, adding many various new tasks to her work. As well as working for Donald for the last 10 and-a-half years, Donald Hall and Kendel Currier share a set of great (or for Kendel great-great) grandparents, making them distant cousins and part of a similar New Hampshire heritage.
Tags: Phillips Exeter Academy, The Daily Worker, The New Yorker, The Atlantic Monthly, The Nation, Connecticut, Nobel prize, Summerholt, Franklin D Roosevelt, Harry S Truman
Duration: 3 minutes, 19 seconds
Date story recorded: January 2005
Date story went live: 24 January 2008