NEXT STORY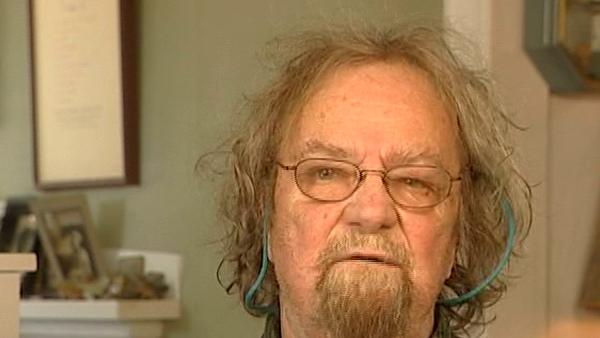 International modernism and changes in writing style
Working habits, writing for a living, and changes in style
1
2
3
4
5
6
...
12
I taught maybe three days a week, or maybe two days a week, with a... with a day of office hours, and the rest of the time I stayed home and worked, and I worked on poems first thing in the day. For almost my entire life, the first part of the day has been the day for... the time of the day for poems... and I was worried about my students, but I managed to make an island 6am-8am in the morning when I wouldn't think about papers to be corrected, or students with emotional problems, or students falling behind in their work, and I could just write poems. So I would get up with black coffee and write for two hours, and then, ping, I would start thinking about the classes I was teaching and the work I had to do, and so on. I was writing little prose at the time and mostly poetry. My son was three, four years old, and when he heard me get up in the morning, of course he wanted to play, so he would come downstairs in his blue Dr Denton's and his red hair, and want to play with Daddy, and I figured out something to do. I told him, 'Oh, I'm writing poems, you know'' and I said, 'Well, I'll write you a poem. What do you want me to write about?' And he was probably hungry, so he'd say something like, 'Toast', and I would write the poem: It feels so good to be/extremely buttery - what the toast said. And then he wanted me to draw... draw a picture of toast - well my drawing is notorious, like my singing, but I would - he didn't mind - he was four years old, and the... he would go back up to his room, clutching his poem and be... be satisfied, so I could get back to work. I did want to... I always wanted to make my living writing... at that point when I was beginning teaching, I thought I never would, but there was something in me that wanted it - to write other things as well, and one day Andrew came to me when he was four, and said that he had a wonderful idea, but it was scary. He was going to go to the lion store, and buy a lion seed and grow a lion in the pot in the windowsill, and I said, 'Thank-you', and I wrote a children's book called Andrew the Lion Farmer, about a little boy doing just that, you know, and so on. He was so proud... he was incredibly proud about that thing. And I did write occasional literary articles, and I began to write for The New York Times Book Review - lots of little casual pieces, some book reviews, and so on. Every now and then I tried a story, but it was almost entirely poetry, and my poetry began to change at that time for a number of reasons. Maybe, I had... I had been looking for change - I had been becoming dissatisfied with the kind of poetry that I was writing - even before, I mean in my last years as a junior fellow, I wrote a poem called Je Suis une Table, taking... taking it as a language mistake, like, Je suis la plume de ma tante, or something, and, in it, I inhabit a thickening - I am a table, and it means that I can't say, can't speak, can't speak what's on my mind, and I wrote it in syllabics, where you just count the number of syllables - you do not alternate louder and softer syllables the way you do in regular English meter - so it was a way of counting something, but avoiding the sound of the poetry that I had been writing, and I think that there was a sense in me that I could write only in certain ways - only in certain tones, and attitudes, and cleverness, and so on, that... therefore I felt inarticulate. There were things in me that wanted to speak, that couldn't speak. When I was writing that poem I had no such thought but I look back at it, and remember what was going on in my head at that time, I think it was.
The 14th US Poet Laureate Donald Hall (1928-2018) was educated at Phillips Exeter Academy, then earned a bachelor's degree from Harvard in 1951 and a BLitt, from Oxford in 1953. He published many essays and anthologies of both poetry and prose including String too Short to be Saved: Recollections of Summers on a New England Farm, White Apples and the Taste of Stone, Without: Poems, and Ox-Cart Man, a children's book which won the Caldecott Medal. Hall was editor of the magazine Oxford Poetry, literary editor of Isis, editor of New Poems, and poetry editor of The Paris Review. He won many awards, including two Guggenheim Fellowships and a Robert Frost Medal. At the end of his first Oxford year, he also won the university's Newdigate Prize, awarded for his poem Exile.
Title: Working habits, writing for a living, and changes in style
Listeners: Kendel Currier
Kendel Currier started working for Donald Hall in August of 1994 as his correspondence typist. Later she took on his manuscript typing as well, and in October of 1998 moved 100 meters down the road from Donald and became his personal assistant, adding many various new tasks to her work. As well as working for Donald for the last 10 and-a-half years, Donald Hall and Kendel Currier share a set of great (or for Kendel great-great) grandparents, making them distant cousins and part of a similar New Hampshire heritage.
Tags: Andrew the Lion Farmer, The New York Times Book Review, Je Suis une Table
Duration: 4 minutes, 25 seconds
Date story recorded: January 2005
Date story went live: 24 January 2008