NEXT STORY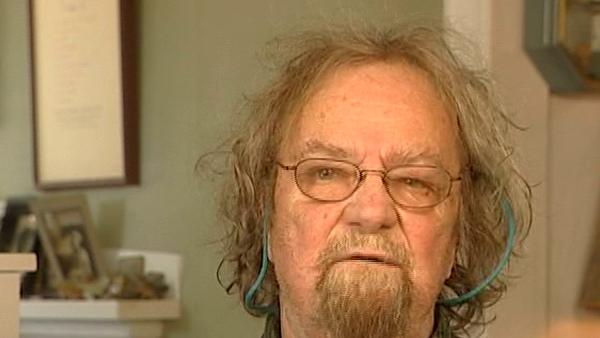 Ezra Pound: lonely and misunderstood
1
...
3
4
5
6
7
...
12
Ezra Pound… I think it was 1958 when he was released from the custody in the mental hospital in Washington, because, rather than try him as a traitor, the government had judged him insane, incapable of standing trial, because he had broadcast for Mussolini to the American troops during the Second World War. And this was a difficult idea to… to… I loved Pound's poetry - the early stuff mostly - early Cantos too, and I learned a lot from him… I admired him very much. But the words I'd heard out of Washington were that he was arrogant and fascistic and… The Paris Review had earlier tried to do an interview with him, and he'd said yes at first, and then he said he'd discovered that the magazine was part of the pinko usary fringe. And that may be because the name of the publisher at that time was Jean Stein… I don't know that. So now he was back in Italy and The Paris Review wanted me to interview him, and they wanted it like crazy, and I loved much of the work, so I decided to do it. I rented a Morris Minor station wagon, so that the baby could be on the top of her baby carriage, behind the seats, and… and we… could sit behind us, and we drove from Thaxted over to France, and through the Simplon Pass railroad train – wonderful - turn around and look at the baby as we were going through the tunnel sitting up, looking around - and my wife took the kids through the streets of Rome. These two little red-headed babies, and they were constantly remarked upon – 'Rosso!' But I went to see Pound the day we got there to arrange when we'd start the interview the next day. And he came to the door and opened it, and he was 74 then. His face was heavily wrinkled, almost like Auden's and kind of beautiful… that great hair swooping back, leonine, but he looked… he looked very old, and he carried a cane, and he said, 'Mr Hall, you have come all the way from England, and you find me in fragments'. And it was an extraordinary time. I spent a good deal of four days with him, and I came to feel for him enormously. He was very guilty, but he didn't get it - what he had done wrong. He insisted he was not a traitor, because you could not be a traitor without treacherous intent. He said nothing… he was defending the real American republic against the usurpers. He said nothing anti-semitic to me. But one time he told a joke that had references to Judaism - it wasn't anti-semitic - and then his face fell, he was afraid he had been anti-semitic, he didn't know. Well, he went in and out of speech. There were times when he was eloquent and witty and building a story nicely, but then maybe in the middle of a sentence he would collapse, and close his eyes, and lie back on a little bed, and say that he was a failure. Succeeding in the interview was really important to him… that's one thing I thought of him as being so arrogant. He was desperate to do a good interview - to come off well, and so on. He was a very broken man. Shortly thereafter, he stopped talking, almost entirely, he went into the silence, and for the last 10 years of his life, he spoke very few words. He could speak - it wasn't a physical thing - but, he was sort of entering the silence at that time, and there was a lot of silence. But eventually over four days, there was a lot of talk, and when we saw him… I took a tape recorder on a very primitive machine… and the thing you can hear clearest on it was, 'Turn that damn thing off! Turn that damn thing off!' But I managed to get the interview off it, and out of memory, and so on.
The 14th US Poet Laureate Donald Hall (1928-2018) was educated at Phillips Exeter Academy, then earned a bachelor's degree from Harvard in 1951 and a BLitt, from Oxford in 1953. He published many essays and anthologies of both poetry and prose including String too Short to be Saved: Recollections of Summers on a New England Farm, White Apples and the Taste of Stone, Without: Poems, and Ox-Cart Man, a children's book which won the Caldecott Medal. Hall was editor of the magazine Oxford Poetry, literary editor of Isis, editor of New Poems, and poetry editor of The Paris Review. He won many awards, including two Guggenheim Fellowships and a Robert Frost Medal. At the end of his first Oxford year, he also won the university's Newdigate Prize, awarded for his poem Exile.
Title: Interviewing Ezra Pound
Listeners: Kendel Currier
Kendel Currier started working for Donald Hall in August of 1994 as his correspondence typist. Later she took on his manuscript typing as well, and in October of 1998 moved 100 meters down the road from Donald and became his personal assistant, adding many various new tasks to her work. As well as working for Donald for the last 10 and-a-half years, Donald Hall and Kendel Currier share a set of great (or for Kendel great-great) grandparents, making them distant cousins and part of a similar New Hampshire heritage.
Tags: Washington, WWII, Cantos, Paris Review, Morris Minor, Thaxted, France, Simplon Pass, Rome, England, American republic, Ezra Pound, Benito Mussolini, Jean Stein, WH Auden
Duration: 5 minutes, 3 seconds
Date story recorded: January 2005
Date story went live: 24 January 2008