NEXT STORY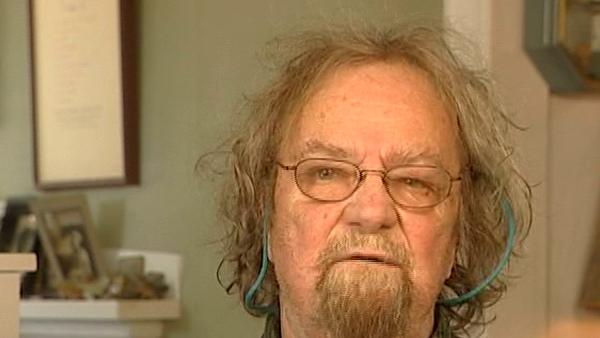 Moving to New Hampshire after a year off work
Jane fell in love with New Hampshire
1
...
4
5
6
7
8
...
12
We had three years together of marriage in Ann Arbor, and they went well. I mean I taught my regular... well, no I was working on a book which never worked out actually, and we went to England to... we took a trip to England together that first fall to work on that book. And most of the time I was just teaching regular courses, and she was working, paying off her loans, and we didn't have troubles together but there were other people around, we went to parties. Neither one of us... Jane loathed parties, and I was beginning not to like parties. They had been a distraction in my earlier distracted life. But we came here in the summer to see my grandmother and my mother, and we... she took one look at this house and loved it, and the landscape, she just fell in... fell in love with the place... and didn't have much sense of the people yet, but she loved the countryside anyway. Jane had grown up in rural Ann Arbor, on a dirt road, and then the road was paved, and the houses moved out around her, and the farm across the street where she had played as a little girl ceased being a farm. She... she knew that she loved the country... living in the country, and she certainly liked solitude, and was reclusive, she adored this place. We went back to Ann Arbor without even having a thought about moving here, and then she said... we were looking at a place in the country outside Ann Arbor, and she said one day, 'It's silly to buy a country place here when there's New Hampshire'. Well how would I commute to classes, you know, but I... I knew she wasn't thinking of me commuting to classes. Her family was freelancers, and the notion of living without a salary, without regular health insurance supplied by somebody else was not terrifying to her. I had grown up in a... father with a stable job, and then I'd had stable jobs... hard for me to think of freelancing. But I set out to find what it would cost to buy it - my grandmother was still alive by this time. The second year that we were married, she was in the old folks home because she was becoming so senile... she could no longer take care of herself or live at home. She was 95 I guess by that time, and her three daughters were going to inherit the place, and my mother had a little money, but the other two sisters had none, so there wasn't a question of me inheriting the place... I'd had to buy it. Nobody had any idea what it would sell for, so... it had not been surveyed since 1865. So I hired a surveyor to survey it, and then got a price from a real estate man, and they needed... the... the three daughters needed money to pay for Kate in the old folks home, and so they were going to take a mortgage, but I gave a mortgage. I found out from my lawyers I could afford it, and so on... I gave a mortgage which would later turn into a down payment.
The 14th US Poet Laureate Donald Hall (1928-2018) was educated at Phillips Exeter Academy, then earned a bachelor's degree from Harvard in 1951 and a BLitt, from Oxford in 1953. He published many essays and anthologies of both poetry and prose including String too Short to be Saved: Recollections of Summers on a New England Farm, White Apples and the Taste of Stone, Without: Poems, and Ox-Cart Man, a children's book which won the Caldecott Medal. Hall was editor of the magazine Oxford Poetry, literary editor of Isis, editor of New Poems, and poetry editor of The Paris Review. He won many awards, including two Guggenheim Fellowships and a Robert Frost Medal. At the end of his first Oxford year, he also won the university's Newdigate Prize, awarded for his poem Exile.
Title: Jane fell in love with New Hampshire
Listeners: Kendel Currier
Kendel Currier started working for Donald Hall in August of 1994 as his correspondence typist. Later she took on his manuscript typing as well, and in October of 1998 moved 100 meters down the road from Donald and became his personal assistant, adding many various new tasks to her work. As well as working for Donald for the last 10 and-a-half years, Donald Hall and Kendel Currier share a set of great (or for Kendel great-great) grandparents, making them distant cousins and part of a similar New Hampshire heritage.
Tags: Ann Arbor, England, New Hampshire, Jane Kenyon
Duration: 3 minutes, 27 seconds
Date story recorded: January 2005
Date story went live: 24 January 2008