NEXT STORY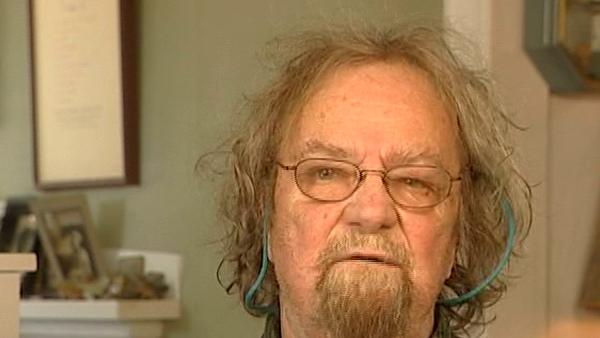 Life and work in New Hampshire and a second marriage ceremony
Jane Kenyon's poetry and doing readings with her
1
...
5
6
7
8
9
...
12
She began really to flower and ascend as a poet when she came here and... was so concentrated on it. She didn't work at anything else... she had a great garden - she was a great gardener - but the work was one thing... it was writing, and it was writing poems. She eventually wrote some prose too and I think she would have written a lot more if she had lived, but it was amazing to see and really exciting and stimulating to see her get better, and better and better. She published her first book in 1978, when we had been here only three years, and it will be reprinted in the present collected poems, and it's good, but not nearly so good... the best of it is damn good... but the second book made an enormous leap. The second book came 1986... and eight years... it was pretty much finished earlier than that but took a while to find a publisher. The first publisher was a co-operative and she wanted to go with somebody real, and she found a very good small publisher- Graywolf - that published her subsequently and is still publishing her now. I remember one day when she brought me three poems, sort of part way through the second book, when I realized that I was married to an extraordinary poet, not just a... certainly not a talented kid, not a good poet but better than that. I remember those three poems with such affection, because it took the top of my head off. And of course, people have always asked us about competition between us. It really wasn't much of a problem, for one thing we were different generations - she published her first book the year I published my sixth book - and whenever people compared us - they did with that book not subsequently - it was uncomfortable, and we read together sometimes when we were first married here, where people had reading series who knew us both and knew she had done good things, so they asked us both to read, but whenever we did, at the beginning, somebody would always say something that, sort of, put her down. One idiot actually asked her if she didn't feel dwarfed... he was an English professor, needless to say. But another person introduced her as Joan Kenyon one night, you know, making it clear that he had no idea who she was. And so she decided that we couldn't read together any more, and I was sad about that, but I understood... it gave her, you know, bad feelings, and it was like a type of competition. Many years later, we were... she was... had published a couple... two or three books, and she was publishing in The New Yorker all the time, and we were invited to read a lot, but we always said we won't read together, we will read... we'll do two separate readings, so we did that. And one time we were reading at a college, and we did two separate readings, but there was a single question period for the two of us from the writing students, and she got three quarters of the questions, and then she said afterwards, she called me Perkins, she said, 'Perkins, I think we can read together now'. So for the last few years of her healthy life, we did many readings together going A, B, A, B. We read together in New Hampshire, in Pocatello, Idaho, and in Lexington, Kentucky and in India, and so on, and it was wonderful reading together. The last time we read together was about two weeks before leukemia hit over at Bennington College, but by that time people were beginning to see it... that she was an extraordinary poet. Some people were... she was still... her reputation was just beginning to rise, and a year before she took sick, Bill Moyers did an hour's show about the two of us, equal, 50/50, interviews with each of us separately, and each of us reading poems. And... and working through the fields and going to church and so on together. And a lot of people found her by that program, so that... and the program... was... went national, just two or three months before she took sick, but, she got a lot of mail out of it, and she was aware when she was so sick that her reputation was rising, and her reputation after her death has grown exponentially. But I don't feel too bad for her because she knew where it was going, or the direction it was taking, and so on.
The 14th US Poet Laureate Donald Hall (1928-2018) was educated at Phillips Exeter Academy, then earned a bachelor's degree from Harvard in 1951 and a BLitt, from Oxford in 1953. He published many essays and anthologies of both poetry and prose including String too Short to be Saved: Recollections of Summers on a New England Farm, White Apples and the Taste of Stone, Without: Poems, and Ox-Cart Man, a children's book which won the Caldecott Medal. Hall was editor of the magazine Oxford Poetry, literary editor of Isis, editor of New Poems, and poetry editor of The Paris Review. He won many awards, including two Guggenheim Fellowships and a Robert Frost Medal. At the end of his first Oxford year, he also won the university's Newdigate Prize, awarded for his poem Exile.
Title: Jane Kenyon's poetry and doing readings with her
Listeners: Kendel Currier
Kendel Currier started working for Donald Hall in August of 1994 as his correspondence typist. Later she took on his manuscript typing as well, and in October of 1998 moved 100 meters down the road from Donald and became his personal assistant, adding many various new tasks to her work. As well as working for Donald for the last 10 and-a-half years, Donald Hall and Kendel Currier share a set of great (or for Kendel great-great) grandparents, making them distant cousins and part of a similar New Hampshire heritage.
Tags: Graywolf Press, The New Yorker, New Hampshire, Pocatello, Idaho, Lexington, Kentucky, India, Bennington College, Jane Kenyon, Bill Moyers
Duration: 5 minutes, 2 seconds
Date story recorded: January 2005
Date story went live: 24 January 2008