NEXT STORY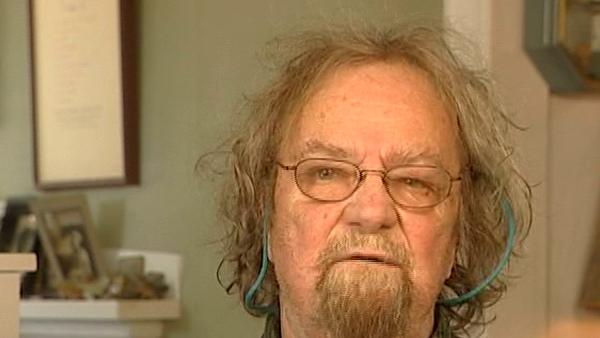 Deciding to become a poet
Childhood influences and my first poem
1
2
3
4
5
...
12
Back home in Connecticut, I turned on the radio and listened to Bob Hope and Bing Crosby, but soon enough I became - it… it seems fated when I think about my youth - I became a literary type. But this began, in particular, I remember it beginning when I was 12. When I was 12… Oh! I said the cars… the houses only had one car, but there were trolleys and buses everywhere so people got in from the suburb of Hamden to the city of New Haven easily enough and we would take trolleys to shop and trolleys to go to the movies. And I took when I was 12, to taking a trolley into New Haven on a Saturday afternoon to see a movie, and I loved horror movies. I loved Frankenstein and Dracula and The Wolfman and… and spin offs like Abbott and Costello meet The Wolfman [sic], whatever. The boy next door was a little older, said, 'If you like this stuff, you ought to read Edgar Allan Poe'. Sure enough I'd never heard of Edgar Allan Poe, but my parents had a fancy book of the month club dividend. Every house had book of the month club, every house had the Reader's Digest... of Edgar Allan Poe's poems and stories and I started to read him and I thought he was absolutely marvelous. It was weird and morbid and just what I wanted, just what I loved. So I set out to write like that. First time… we didn't have creative writing in kindergarten at that time… and the first time I remember writing anything at all, and I'm quite sure it was the first time, I wrote a poem which I can more or less recite - and will - of course, all my friends say that it's the best thing I've ever done, but this was a 12 year old:
Have you ever thought
Of the nearness of death to you?
It reeks around each corner,
It follows you through the night,
It follows you through the day,

(I... I never say it the same way twice.)

Until that moment when,
In monotones loud,
Death calls your name.
Then, then comes the end of all.
I've written so many death poems, and I began with one, and it didn't sound like Pou… Poe at all of course, and I love Pound's… Poe's - I write about Ezra Pound too… I loved Poe's sound when I was 12, and I got over that, but I'd never imitated it. But there was another book in my parents library. They were great readers. They read all the time. This was another gift of theirs to me, that I grew up realising that this is what adults did at night. They sat in chairs and read. So I wanted to grow up so I sat in chairs and read. But in their library they had a biography of Poe, by Hervey Allen called Israfel... a great big 800 page biography, and I read that, and at some point, I was still 12, I read that Poe was extraordinary because when he was only 14 he was reading Shelley and Keats. Well, I had never heard of Shelley and Keats, but there was a Shelley and Keats 'collected collected' - one volume - in the modern library as a giant, $2.45 cents and I saved up my allowance and bought it and read Shelley and Keats and began to try to write terrible romantic poems.
The 14th US Poet Laureate Donald Hall (1928-2018) was educated at Phillips Exeter Academy, then earned a bachelor's degree from Harvard in 1951 and a BLitt, from Oxford in 1953. He published many essays and anthologies of both poetry and prose including String too Short to be Saved: Recollections of Summers on a New England Farm, White Apples and the Taste of Stone, Without: Poems, and Ox-Cart Man, a children's book which won the Caldecott Medal. Hall was editor of the magazine Oxford Poetry, literary editor of Isis, editor of New Poems, and poetry editor of The Paris Review. He won many awards, including two Guggenheim Fellowships and a Robert Frost Medal. At the end of his first Oxford year, he also won the university's Newdigate Prize, awarded for his poem Exile.
Title: Childhood influences and my first poem
Listeners: Kendel Currier
Kendel Currier started working for Donald Hall in August of 1994 as his correspondence typist. Later she took on his manuscript typing as well, and in October of 1998 moved 100 meters down the road from Donald and became his personal assistant, adding many various new tasks to her work. As well as working for Donald for the last 10 and-a-half years, Donald Hall and Kendel Currier share a set of great (or for Kendel great-great) grandparents, making them distant cousins and part of a similar New Hampshire heritage.
Tags: Connecticut, Hamden, New Haven, Frankenstein, Dracula, The Wolfman, Abbott and Costello meet The Wolfman, Reader's Digest, Israfe, Bob Hope, Bing Crosby, Ezra Pound, Hervey Allen, Edgar Allan Poe, Percy Bysshe Shelley, John Keats
Duration: 4 minutes, 1 second
Date story recorded: January 2005
Date story went live: 24 January 2008