NEXT STORY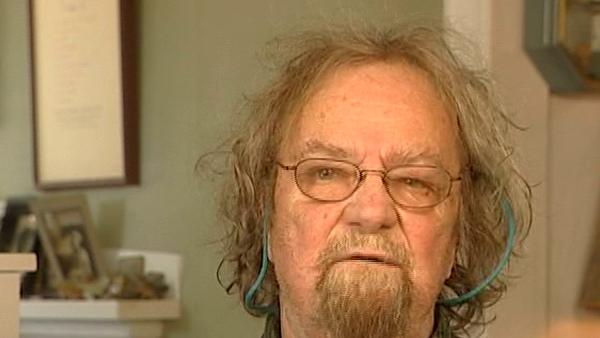 Working habits and growing old
Coping with life after Jane Kenyon's death
1
...
8
9
10
11
12
The first maybe five or six years after Jane's death, I wrote about virtually nothing except... except well... her death, my grief, and my response to... to her death, and my missing her. But I was... I was very disturbed otherwise, except for the two hours of working with Without, and so on, I left... led a kind of restless life. And I starting dating again, and it was a sort of gerontological repeat of the years in Ann Arbor between marriages, before I married Jane, when I chased a lot of women, and... old or not... many of them... they were good happy times, but they all came to some disaster or other. And I did want for many years not to have one girlfriend but to have more than one - safety in numbers. There were several women I... with women I would say I would let them know they... they were not the only one, or they were not going to be the only one, and some of them rather sensibly rejected me in that case... they didn't want to be. But I was again at the place of safety in numbers. I fell in love and committed myself, and look what happened. I don't know if that's the only reason, but it... plausible one at any rate. And that has stopped now - I am able to love someone and feel steady - I'm not so restless or crazy as I was. I went through... it's often said that the... the dead one takes on, sorry... the survivor - the living one - takes on characteristics of the dead, and this happened several ways... trivial ways. Jane had always known all the birds, and checked them out, and I thought the birds were perfectly fine. We had a feeder but I didn't know one from another and I found myself outside under the... under the feeder with a little Peterson checking on birds were, and I thought I'm doing it because Jane can't do it any more. And also she had seasonal affective disorder - when it got dark in November, December, it was depressing for her. And I always told her, 'Oh, it's cosy'. I mean I tried to persuade her that the... that the early dark was nice - she wasn't buying any - and then the first autumn after Jane's death, the early dark just depressed me like crazy. But I really didn't start going nuts, and I don't mean schizophrenic, but pretty disturbed, till about a year after her death. I was sort of so concentrated on grief and writing Without, that there was no room for anything else, but then I went manic for a while... I just didn't sleep much... I finished a reading one night in Franklin, New Hampshire, and I had to get to New Haven, Connecticut the next day which is about four hours, and I just decided after the reading: Oh, I'll drive down now. So I arrived in Connecticut at two in the morning or something like that, and I'd sleep two or three hours and wake up and feel bright... I went to my college reunion and realized, boy I have energy... I have more energy now than I've ever had in my life. Sleep two or three hours and be wow all time and so on. And I became much more gross and overt in chasing women, including young women whom I would not have been bold enough to chase otherwise. I was manic, and... classically manic in my approaching women, in my sleeplessness and so on, and again, Jane was bipolar - she was manic depressive - and I was following the characteristic. You don't do that by will somehow, it's... it's a structure that imposes itself on you. And then that summer, that was the first summer... the second summer after her death - 15 or 18 months after her death - I plunged into a kind of depression that I'd never known anything about. And at the beginning, it had a characteristic that was, oh, especially difficult - I felt violent. I had images of... at a... at a poetry reading I wanted to have a machine gun and shoot my whole audience. I had images of it, and I was tortured by these images of it, driving home from the reading, I just had these visual images of killing the audience, and felt it. It was self-directed also... I had plenty of dreams about suicide, and daydreams of suicide, but this notion, for going out toward others... I never picked up a gun. I never did anything about it... I don't think I was in danger of doing anything about it, but I was upset. And I called Jane's old psychiatrist who was sort of semi-retired by this point, and he immediately came to me and he prescribed something that took away the... the rage or the images of murder. It went away - very quick acting - it went away, it left me depressed but not violent. And that... those feelings of violence turn up in some poems... in especially one called Kill the Day, at the beginning of The Painted Bed - that last book - and they were real. I remember having such feelings while Jane was dying. While Jane was dying the Oklahoma government building blew up with lots of deaths, a terrorist act, and I remember thinking, good, and that summer - the summer of the rage - TWA 800 went down off Long Island, and I thought, good. Again, thoughts I was not used to having. But these were all reactions of grief, reactions of death, and they came into extreme bi-polarity for a while. And I took chemicals for several years, I know they... they helped with the feelings of rage - it was perfectly clear - and probably in other ways as well, but it's now more than three years since I stopped entirely, and I feel quite stable these days. But I... and I... the bi-polarity has stopped... it was, oh, situational... not something inherited and biochemical.
The 14th US Poet Laureate Donald Hall (1928-2018) was educated at Phillips Exeter Academy, then earned a bachelor's degree from Harvard in 1951 and a BLitt, from Oxford in 1953. He published many essays and anthologies of both poetry and prose including String too Short to be Saved: Recollections of Summers on a New England Farm, White Apples and the Taste of Stone, Without: Poems, and Ox-Cart Man, a children's book which won the Caldecott Medal. Hall was editor of the magazine Oxford Poetry, literary editor of Isis, editor of New Poems, and poetry editor of The Paris Review. He won many awards, including two Guggenheim Fellowships and a Robert Frost Medal. At the end of his first Oxford year, he also won the university's Newdigate Prize, awarded for his poem Exile.
Title: Coping with life after Jane Kenyon's death
Listeners: Kendel Currier
Kendel Currier started working for Donald Hall in August of 1994 as his correspondence typist. Later she took on his manuscript typing as well, and in October of 1998 moved 100 meters down the road from Donald and became his personal assistant, adding many various new tasks to her work. As well as working for Donald for the last 10 and-a-half years, Donald Hall and Kendel Currier share a set of great (or for Kendel great-great) grandparents, making them distant cousins and part of a similar New Hampshire heritage.
Tags: Without, Ann Arbor, Peterson Field Guides, Kill the Day, The Painted Bed, Franklin, New Hampshire, New Haven, Connecticut, Oklahoma, TWA, Jane Kenyon
Duration: 7 minutes, 9 seconds
Date story recorded: January 2005
Date story went live: 24 January 2008