NEXT STORY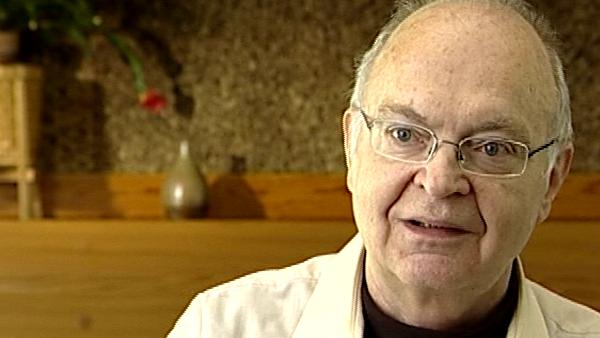 University life: my basketball management system
Why I chose to go to Case Institute of Technology
1
2
3
4
5
...
10
In... in high school, as I've said, mathematics was just confusing to me. When I got to Case, though, the... the teachers… the chemistry teacher was… seemed to know chemistry okay, but he didn't know anything about physics or math. My physics teacher knew physics and chemistry, but my math teacher knew all three subjects, and I had terrific respect for him, because he seemed really smart, and… and also he was… he was very hard to please. No matter, you know, I could show him what I was doing in… in calculus, but he would… he never seemed to be impressed, and…so this was frustrating to me. I'd never had a teacher that I couldn't impress, you know, so I… so I worked even harder at my math. But he had a good sense of humor, and his name was Paul Guenther. And finally, after 2 years, I was able to impress him a little bit, you know, and so this was good. But I developed an interest in mathematics… but I have to go back a little bit.

I, when I… when I was choosing what college to go to, I had won several scholarships, and one of the scholarships would have been to Valparaiso University in Indiana, associated with the Lutheran Church, and it was… but there I would have been a major in music. And… and the other… the other scholarship was to Case in Cleveland, which was where I would major in physics. And… and since my mother's family is from Cleveland, she knew that Case had very high standards, and… and very few people that she knew were able even to be admitted to Case, and there was… considered to be one of the hardest schools to do. I'd never heard of MIT, by the way, until some years later, or much less Caltech. But Case, to me, was… was a challenge, where I would really have to work hard and… and well, Valparaiso, it would be… it would be something where I could just do some music which seemed to me much easier. And I decided to go for the… for the challenge then, at Case, and I was admitted to… they had a special section for freshmen, called the Honors Section, where 20 of us were given… were taught each of our classes by the heads of departments. So I… so I really had the… Case's best, you know, physics teacher, chemistry teacher, math teacher and… and English teacher.
Born in 1938, American computing pioneer Donald Knuth is known for his greatly influential multi-volume work, 'The Art of Computer Programming', his novel 'Surreal Numbers', his invention of TeX and METAFONT electronic publishing tools and his quirky sense of humor.
Title: Why I chose to go to Case Institute of Technology
Listeners: Dikran Karagueuzian
Trained as a journalist, Dikran Karagueuzian is the director of CSLI Publications, publisher of seven books by Donald Knuth. He has known Knuth since the late seventies when Knuth was developing TeX and Metafont, the typesetting and type designing computer programs, respectively.
Tags: Case Institute of Technology, Cleveland, Valparaiso University, Indiana, MIT, Caltech, Paul Guenther
Duration: 3 minutes, 17 seconds
Date story recorded: April 2006
Date story went live: 24 January 2008