NEXT STORY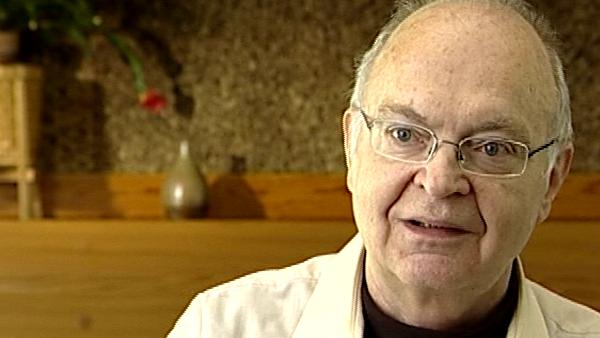 Bible study at university and a time of personal challenge
1
2
3
4
5
...
10
At my fraternity, my best friend, who was also in the Honor Section at Case – his name is Bill Davis – he… he now, by the way, is a Mathematics Professor at Ohio State, and is very active in… in internet online education for teaching mathematics. But anyway, Bill and I were bosom buddies during my freshman year, and… and he… and then also in the… in the sophomore year we both pledged Theta Chi fraternity, and so then we were, you know, then we also, you know, went through Hell Week together and… and had rooms next to each other in the fraternity house. So I started to… to date a girl at Western Reserve University; her name was Betsy, and her roommate was named Jill, and Bill was dating Jill, so… so I was… now, Betsy was Catholic, and I was Lutheran, and… and this was something that we thought, well, our families would never be able to understand. But still I thought that Betsy was pretty terrific, and… but I was also dating a girl named Becky, a Jewish girl, whose father owned a department store in Cleveland and… and I was dating some nurses too, you know, this was… there were lots of girls would hang out around the… the Case area. And… and… but I was mostly interested in this Betsy, and I was… and I decided to… and we'd had double dates with… with Bill Davis and his girl Jill, and so… and as I said, Betsy and Jill were roommates; Bill and I were roommates. So I was… I was wondering, you know, how I'd ever be able to make more of a hit with Betsy, and I decided I would have lunch with Jill, to ask her for advice. And so this was probably the… my sophomore year, in the spring of my sophomore year… and, you know, she… she was such a good listener, and gave such good advice, that I started dating Jill instead. And… and well, I'm not sure Bill ever forgave me for that, but she didn't really like him, she thought, she said… well… well, anyway Jill is the one that I eventually got pinned to, and engaged to and married to, and we've been married now for 45 years. And Jill and I started having dates in the library, where we would study together, and… and, you know, I found that I enjoyed kisses for the first time, when they came from her. In high school I was afraid to kiss girls, even when they would stand up… I mean I was dating a girl in high school who was about four and a half feet tall, I don't remember her name any more, but I remember that she was real cute, because… I always liked short girls, because they seemed to, you know, have a good balance, they didn't fall over as easily as tall… tall ones, and I, being tall… I was, you know, but… but she was a cheerleader, and… and she stood on the steps of her house, and with her… with her lips turned up, and I figured I'd got to kiss her, but I'd never done this before, how am I going to do it, you know? And so I did, but I never… never realized how good it could… could be until… until I kissed Jill, when I was a sophomore.
Born in 1938, American computing pioneer Donald Knuth is known for his greatly influential multi-volume work, 'The Art of Computer Programming', his novel 'Surreal Numbers', his invention of TeX and METAFONT electronic publishing tools and his quirky sense of humor.
Title: Meeting my wife Jill
Listeners: Dikran Karagueuzian
Trained as a journalist, Dikran Karagueuzian is the director of CSLI Publications, publisher of seven books by Donald Knuth. He has known Knuth since the late seventies when Knuth was developing TeX and Metafont, the typesetting and type designing computer programs, respectively.
Tags: Case Institute of Technology, Ohio State University, Theta Chi fraternity, Western Reserve University, Cleveland, Bill Davis, Jill Knuth
Duration: 4 minutes, 28 seconds
Date story recorded: April 2006
Date story went live: 24 January 2008