NEXT STORY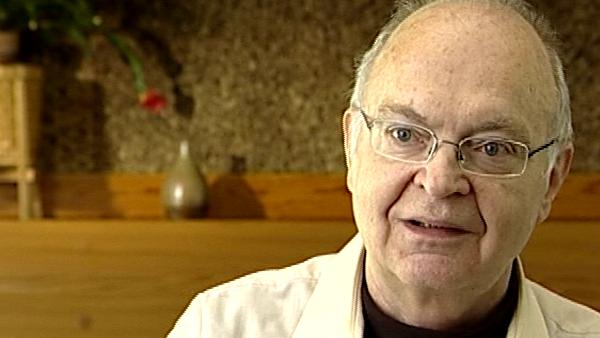 The importance of stability for TeX
Re-writing TeX using the feedback I received
1
...
5
6
7
8
9
10
I rewrote TeX from scratch using literate programming and added... you know, changed a lot of the things that users had found awkward, added... added the features that they needed, and... and the system TeX 82 came out as... as the definitive one and it's still almost identical to what we have today except for more features for... for European languages. The... so I... I was finally getting to a system that I could believe would be stable, and... and had some reason... reason to [sic]. During this time I wasn't working alone, by any means, I had not only my... my research assistants but also I had lots of volunteers from the Stanford community and we would meet every week on Fridays first, well... at lunchtime we'd bring bagged lunches but we often stayed two, three hours, and as I'm developing the new system TeX 82 - it had 22 chapters to the manual - and as I'm writing each part of... of the manual, I'm discussing with the group, what should it really be? What... what I mean... all the issues that, you know, it's like I get sentiment from... from lots and lots of people and... and it would not only be Stanford people, but there was always visitors to campus and so we had people from around the world participating in these sessions, font designers as well as... as mathematicians and these... these sessions continued as we were refining the Metafont language in... in later years. So, here I had... I had a great exposure to... to a lot of varieties of opinion, but I had to make the final decision. I... I knew that we had this - I talked about creeping featurism before - that every user wants to have their own thing, and I also know about design by committee, where if you have a committee who's responsible for something, everybody on the committee has to feel that there's some part of the language they can point to, and the language you get as a result is usually pretty disunified. So, I was going to insist that I be the filter for all the ideas and I... and I implement everything and... and... but I did allow a lot of people to express their opinion and finally I... I reserved to myself the... the decision. Judge... the decision of the judge will be final, basically. I wrote the program so that it would last forever, and... and not... not be always improving, because of my experience that I had with these improving systems, so I wanted to... I wanted it so that if somebody creates a document with TeX 82 in 1982, he can run it also in 2002 and get the same output on every computer in the world. And pretty much that ideal has been realized. Now, I also published the program in a book. The entire code is... is, you know, a 600 page book, TeX: The Program. It's... it's had, I think, more people in the world understand that program than any other program of its size, because it was written in this literate manner, and... and it was... it was, you know... in all countries, people were looking at this and... and finding out how... how it works and... and seeing exactly how they could use similar techniques in their own program. This was done all without royalties and... and the only royalties would come in for people by the Users' Manual, and... and those royalties are shared with the TeX Users Group, this international group of users for their projects on... on promoting the use of the language.
Born in 1938, American computing pioneer Donald Knuth is known for his greatly influential multi-volume work, 'The Art of Computer Programming', his novel 'Surreal Numbers', his invention of TeX and METAFONT electronic publishing tools and his quirky sense of humor.
Title: Re-writing TeX using the feedback I received
Listeners: Dikran Karagueuzian
Trained as a journalist, Dikran Karagueuzian is the director of CSLI Publications, publisher of seven books by Donald Knuth. He has known Knuth since the late seventies when Knuth was developing TeX and Metafont, the typesetting and type designing computer programs, respectively.
Tags: TeX, TeX 82, Stanford University, , TeX: The Program
Duration: 4 minutes, 19 seconds
Date story recorded: April 2006
Date story went live: 24 January 2008