NEXT STORY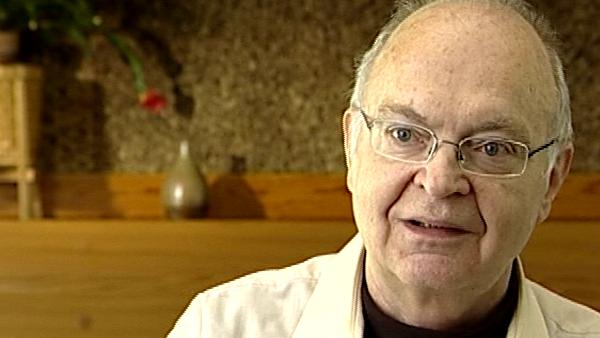 Writing a book about the Bible: 3:16
1
...
6
7
8
9
10
Now it was time for my real sabbatical. My real sabbatical year was quite special and it... and it started in the Fall of 1985 and... and I went to Boston. Jill and I went to Boston. And... and the reason it's quite special is because I had promised Jill that this would be her sabbatical, not my sabbatical. It was... it... some people think it was generous of me, but actually it was just less selfish than I could have been because this was after 24 years of marriage, I was giving her one year out of 25. And so... so this year in Boston, I did the cooking, I did the shopping, I did the... the cleaning and... and she wrote books. And... and you know, she'd had... had lots of projects that she'd been saving up and I had my chance to... to learn how to... you know, how to do these things that she had been providing for me patiently for all the years. It was easier to do it this year than any other year because I... both of our kids were now in college and so I didn't have to... I only had to, you know, take care of her, I didn't have to take care of... of John and Jenny as well. Although, the kids did come to visit a couple of times, you know, so I... I learnt a little bit about quantity cooking, but mostly I just learnt how to cook for two. And we lived in downtown Boston in... in Back Bay and it was very... very pleasant to... I had to walk six blocks to grocery stores and... and I had just a little backpack so I could carry a few groceries every day, but... and... and the apartment wasn't too hard to clean. Anyway, it was a... it was a very interesting year and I was incognito. I... I went over to MIT one day only and... and just... just to... to look... look up a book in the library, but I didn't tell anybody that I was there. I met Nick Trefethen once, who was walking on the Charles River. But anyway, it was... it was a year when I... when I did completely different things. The only computer... the only computer-related thing I did, though, we had an internet connection in our apartment so that I could communicate to Stanford to... to finish the... the typesetting of my books on typography because the... the five volume series of... of books was published by... by my publisher to... to contain the results of all of the work that had... that had been done on typography. So the first volume is the User Manual for TeX, the second volume is the program for TeX, the third volume a User Manual for Metafont, fourth volume, program for Metafont, fifth volume, all the programs for the... for the computer modern fonts, the... the letter forms in my books. And... and so during that year I also saw those five books through the press located conveniently right... right there in Boston.
Born in 1938, American computing pioneer Donald Knuth is known for his greatly influential multi-volume work, 'The Art of Computer Programming', his novel 'Surreal Numbers', his invention of TeX and METAFONT electronic publishing tools and his quirky sense of humor.
Title: A year in Boston
Listeners: Dikran Karagueuzian
Trained as a journalist, Dikran Karagueuzian is the director of CSLI Publications, publisher of seven books by Donald Knuth. He has known Knuth since the late seventies when Knuth was developing TeX and Metafont, the typesetting and type designing computer programs, respectively.
Tags: Boston, Back Bay, MIT, Charles River, Stanford University, TeX, Metafont, Lloyd Nicholas Trefethen, Jill Knuth
Duration: 3 minutes, 35 seconds
Date story recorded: April 2006
Date story went live: 24 January 2008