NEXT STORY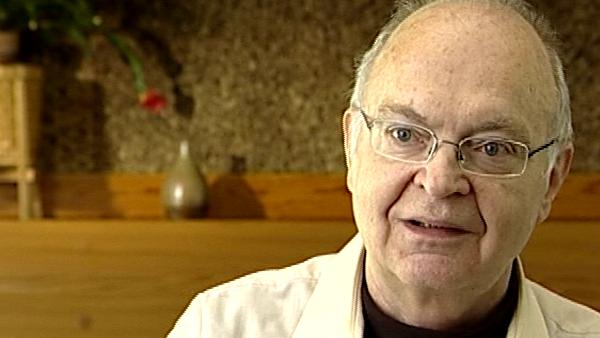 Writing a book on my Concrete Mathematics class
My class on Concrete Mathematics
1
...
6
7
8
9
10
Now I'm retired but then I still have... I still can't go full time to work on Art of Computer Programming because there's other projects that I really have to finish. For example, I told you about the 3:16 book which I was doing on weekends, I wanted to get that done. And so I... I was doing that, at... at this time I... it was just at the end of the '80s. It was published, I think, beginning of 1990. Then I had introduced a class at Stanford called Concrete Mathematics. This... I... I started it out in 1970 I think, maybe 1971, probably '70... well, it might have been in the fall '70 or the spring of '71. Anyway a brand new course in the curriculum because there was no... there was no... students at Stanford couldn't learn the kind of mathematics that I found necessary for computer science work. And I'd been thinking a lot about what it was that... that I had needed... as writing the first parts of Art of Computer Programming that I hadn't been taught myself in school. And there was also a big to-do at that time about... some people were complaining mathematics was getting too abstract, that... that it was too detached from reality so I could make a little joke about that by calling it Concrete Mathematics, although I... I said that the word concrete doesn't really mean the opposite of abstract, it's a... it's a combination of the word continuous and discrete. We had this course - Concrete Mathematics - the students were enthusiastic and I gave it over and over again. Sometimes we had guest lectures when I... when I went on sabbatical or when I'm away somebody else would come and... and teach it from... on the model that was established. And one of the ways I... I always did teaching at Stanford, I was inspired by George Pólya, where I let the students do the talking in class instead... and assumed... instead of me telling them what's in the book. I assumed they... they all know how to read and so when they're in class we're going to talk... we're going to do things that aren't in the book. So I would always run my classes by, almost as if it were a language class instead of a... instead of a computer or math class where I would present a... a question and... to... to the students and the students were supposed to figure out how to solve the problem and... or at least to make the next step towards solving a problem, or... or to try and fail and then we would learn how to recover from failure. You know, you don't find books saying how to recover from... from bad guesses and... and so you learn... we could learn that in class. In order to... so that the students didn't have to take notes in these classes I always had my teaching assistants take notes of what the students said and then they would quickly publish these notes afterwards and... and as a sort of a transcript of the session.
Born in 1938, American computing pioneer Donald Knuth is known for his greatly influential multi-volume work, 'The Art of Computer Programming', his novel 'Surreal Numbers', his invention of TeX and METAFONT electronic publishing tools and his quirky sense of humor.
Title: My class on Concrete Mathematics
Listeners: Dikran Karagueuzian
Trained as a journalist, Dikran Karagueuzian is the director of CSLI Publications, publisher of seven books by Donald Knuth. He has known Knuth since the late seventies when Knuth was developing TeX and Metafont, the typesetting and type designing computer programs, respectively.
Tags: Art of Computer Programming, 3:16, Stanford University, George Pólya
Duration: 3 minutes, 13 seconds
Date story recorded: April 2006
Date story went live: 24 January 2008