NEXT STORY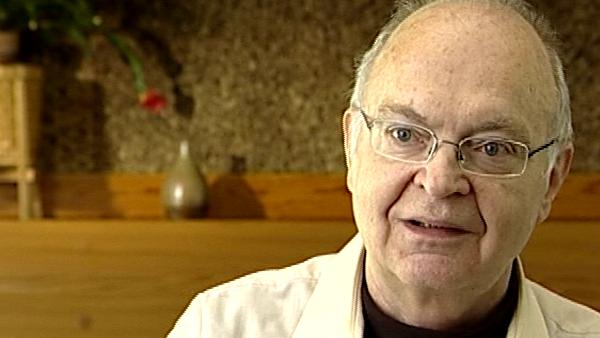 Family history
Why I chose analysis of algorithms as a subject
1
...
6
7
8
9
10
Speaking of analysis of algorithms quickly I should say that, you know, I named the subject and I like it but I didn't mention what...the thing that... that was sort of key in the beginning, why I thought that... that it would be rich enough to... to serve as a life's work. And the reason... and the reason is that... okay, when I was working on a compiler in 1962 I took a day and I... and I looked at an algorithm called hashing, more specifically hashing with... it's called linear probing... a certain kind of hashing. And I'd heard that some students in Princeton had... had looked at this algorithm and they couldn't figure out how fast it was going to run. And I had a few hours to kill so I took a look at it and I... and I got lucky and I saw... I saw how to analyze it and prove exactly how fast it was going to run and this changed my life. I thought... I... I said, wow, this was... this was lots of fun working on this problem, figuring... figuring it out and so... so it turned out to be a beautiful mathematical problem although it had come out of a... a totally practical computer science domain. And I knew that there... there were many other problems in the theory - what's called queueing theory - that are just special cases of certain kinds of algorithms that had... and already this was a buzz word - queueing theory - the... the study of... of the way queues behave. And that's just a special case of... of a certain kind of algorithm. So if I... if I consider the entire class of all interesting algorithms then it had better... it's bound to be full of problems just as interesting as queuing and hashing were... which I knew that... that they were there. So that's why right at that point I said hmm, that wouldn't be bad for a life's... to spend a lifetime on it because the... because you have a huge number of... of problems, not only do they have beautiful mathematical structure that ties together, you know, hangs together in... in nice patterns, but also there are customers out there so that when you solve the problem the people say hey, thanks for solving the problem, Don. So... so it's a great field to... to embark in and it... and it has turned out to be the case.
Born in 1938, American computing pioneer Donald Knuth is known for his greatly influential multi-volume work, 'The Art of Computer Programming', his novel 'Surreal Numbers', his invention of TeX and METAFONT electronic publishing tools and his quirky sense of humor.
Title: Why I chose analysis of algorithms as a subject
Listeners: Dikran Karagueuzian
Trained as a journalist, Dikran Karagueuzian is the director of CSLI Publications, publisher of seven books by Donald Knuth. He has known Knuth since the late seventies when Knuth was developing TeX and Metafont, the typesetting and type designing computer programs, respectively.
Tags: Princeton University
Duration: 2 minutes, 47 seconds
Date story recorded: April 2006
Date story went live: 24 January 2008