NEXT STORY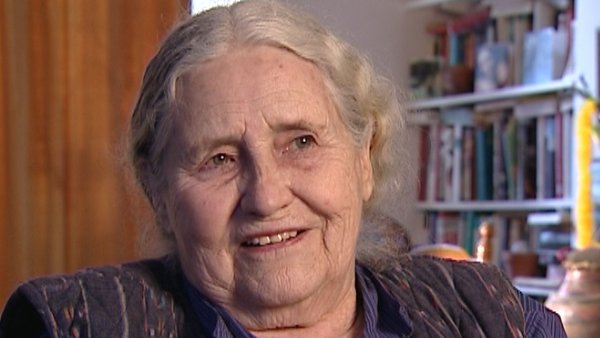 Feelings behind books
How to write non-realistic fiction
1
2
3
Now, there are certain problems about writing non-realistic fiction, the chief one being that it must not be... it cannot be wild. You cannot write a non-realistic story and it's already wild before you start – you have to choose something very normal. You know, you have to start off with: Fred sat in the kitchen drinking a cup of Typhoo tea and he really was wanting to go to the football game but, etc. This is how you start off sci-fi – you do not say: my God, the owls were shrieking and the ghosts were chanting, etc.
So okay, I had to have a very ordinary family, ordinary middle-class with nothing extraordinary about them, because it's no good putting... an exotic child into a family that is already exotic – there's no contrast. So I start off with this very, very ordinary family – middle-class. And there are four children already, very normal children, and this is a family who want a normal family, normal children, etc. And then... there is this child born. Immediately in the womb he shows how extraordinary he is because he is very strong, and this woman... this poor woman had a terrible pregnancy with this violence of this child in the womb.
And where I got that idea from was thinking about animals who are impregnated with different species – they have a different feeling in their wombs, wouldn't they? I mean, just imagine, I don't know, they once impregnated a... a dog and a cat in California – I'm glad to say this foetus didn't work. But just imagine the dog, or the cat, with a different creature in its womb; it's quite horrifying when you think about it. Or when they put different kinds of monkey together – oh, a baboon or something; it's a horrible, horrible thought. What we do when we do this kind of thing.
So I have my heroine, my poor woman with a very difficult pregnancy, and a... a baby which right from the very start is different, and it is different from that time on.
British writer Doris Lessing (1919-2013) was awarded the 2007 Nobel Prize in Literature. Her novels include 'The Grass is Singing', 'The Golden Notebook', and five novels collectively known as 'Canopus in Argos'. She was described by the Swedish Academy as 'that epicist of the female experience, who with scepticism, fire and visionary power has subjected a divided civilisation to scrutiny'. Lessing was the 11th woman and the oldest ever person to receive the Nobel Prize in Literature.
Title: How to write non-realistic fiction
Listeners: Christopher Sykes
Christopher Sykes is an independent documentary producer who has made a number of films about science and scientists for BBC TV, Channel Four, and PBS.
Tags: non-realistic fiction, wild, science-fiction, exotic, pregnancy, violence, child, womb
Duration: 2 minutes, 34 seconds
Date story recorded: June 2007
Date story went live: 21 October 2011