NEXT STORY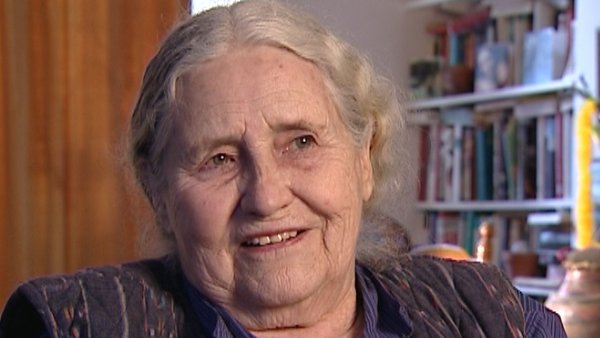 'She is muscling in on our act': Shikasta
Underwater cities and other wonderful ideas
1
2
3
Now, there are various... key ideas, sort of, so deep in our unconscious that you've only got to say it and you respond. Cities under water: can you remember Lyonesse down at the end of Cornwall? Or the city off the edge of Norfolk? But what really gets to you is that the bells ring when the tide is running, so you have the bells ringing from under the sea. I tell you, it's just... I can't bear it, it's so marvellous.
So you might remember that Ballard... he writes about cities under the water – this... probably also remembering our history, where when the seas rise, cities and coasts go under water, and when the seas go down they emerge again. Cities under water is now very much in our minds because of global warming; you know, you have films about New York under water, and there's something about that that... well, I don't know, it's... it's so frightening, but it could happen very easily. That is one, the cities under water. Now, whenever I come up with one of these ideas I never ever reject it, saying this is an old idea. Never, because they've... they've got such a... a resonance in our unconscious, they have got something about them that pulls people in. One is vanishing walls, which you will find again and again in stories of all kinds... fairy stories – the walls that disappear, the walls that you can walk through, the walls that are there, and... and then again, are not. This is one of the great ideas, transparent walls.
Another one is the twins. Can you... I'll remind you of The Memoirs of a Justified City... sorry, that's interesting... The Memoirs of a Justified Sinner – twins, the good twin and the bad twin, which... the doppelganger, which has got this resonance, it always grabs you, grabs you down, and that's another one...
And now I come to something which I left to the end because there's no explanation. I wrote a story called The Marriages Between Zones Three, Four and Five, in a series called Canopus in Argos. The idea behind this is that there is a... a star up there... a good star. This is a very, very advanced civilisation, and it has archives... and I wrote a book called Shikasta because somebody I knew, not from our culture, said that the three sacred books that have influenced our culture so much are the... the Bible – that is the Old Testament and the Apocrypha, which is... lumped them all together – the Koran. These great sacred books nobody said he ever read them one after another. They have become so hostile to each other, those religions, that they will... they will read the Jewish Bible, the... the New Testament, the Apocrypha, and the Koran, but they will never read them all because they... don't like each other.
But if, in fact, you read these books right through end to end, you will see that this is one religion in different stages. They've got the same ideas, characters, stories – you know the stories, our stories... our stories... are in the Koran, and so on. The Mary and Jesus are shared by all of them ... no, they're not... not in the Jewish one... but all these ideas are similar. And so when I read this... these books, I was quite astounded. It had never occurred to me to read them one after the other, but having done it, I began to see what was meant. And I thought, taking some ideas that are common to all of them, I wrote Shikasta.
British writer Doris Lessing (1919-2013) was awarded the 2007 Nobel Prize in Literature. Her novels include 'The Grass is Singing', 'The Golden Notebook', and five novels collectively known as 'Canopus in Argos'. She was described by the Swedish Academy as 'that epicist of the female experience, who with scepticism, fire and visionary power has subjected a divided civilisation to scrutiny'. Lessing was the 11th woman and the oldest ever person to receive the Nobel Prize in Literature.
Title: Underwater cities and other wonderful ideas
Listeners: Christopher Sykes
Christopher Sykes is an independent documentary producer who has made a number of films about science and scientists for BBC TV, Channel Four, and PBS.
Tags: Lyonesse, Cornwall, Norfolk, New York, The Memoirs of a Justified Sinner, The Marriages Between Zones Three, Four and Five, Canopus in Argos, Shikasta, Shikasta, Old Testament, Apocrypha, Koran, James Graham Ballard
Duration: 5 minutes, 2 seconds
Date story recorded: June 2007
Date story went live: 21 October 2011