NEXT STORY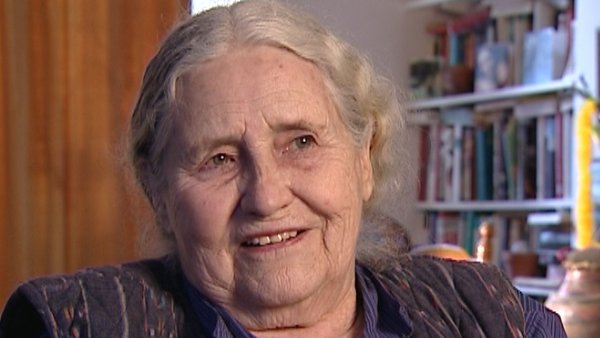 Let's write a novel!
Letters about The Good Terrorist
1
2
3
I had an enormous number of letters about The Good Terrorist as soon as it was published. The first was from the Red Brigades in Italy. I don't know if people remember the Red Brigade? They were a terrorist group or movement. They were very, very violent and very bloody and ruthless. And the letter I got said, 'I was a member of the Red Brigade' – but he left for some reason. He said, 'Everybody I was working with is dead or in prison, and I would be one or the other by now'. He said, 'I don't know if you realise this', said this man, 'but in The Good Terrorist what you described was what the Red Brigades were like before they became serious. They were just like that, they were messy and silly and amateur, and then they became...' And then he said this, 'The language took them over' – and I've never forgotten that – he said, 'The language took them over, and then they became the hard-line killers that they were'. Now, the language as... it's in a thousand books – it's all this stuff about, come the revolution we're going to kill a million people, this kind of thing, and the language took them over.
But now, you see, if you think about it, many different clubs or groups or classes have their own language. I mean, you know, the upper class, for example, are always to create a... a language that no one else can copy, and other groups like the... the groups in East London now, for example, they create languages. Or certain groups of young people create languages which no one else is supposed to understand. And then of course you have to ask, or at least I certainly do, what effect does this language have on them? Because some of these languages are extremely crude and brutal – it can't be that they have no effect at all, is my question... what kind of effect?
Another letter I got... oh, a series of letters from Ireland about The Good Terrorist... because at that time, you see, there were this kind of group, the house full of revolutionaries, America, various parts of Europe and here, and Ireland. In Ireland there would be IRA. This man said to me, 'Have you thought that if you are wearing the right uniform' – which of course was jeans or something – 'and using the right vocabulary, you can be in any one of these houses and you are a revolutionary? You never ever have to do another political act'. He said, 'There are people living in these houses in Ireland who have never been to anything more than a mild demonstration, but they're revolutionaries. And the point is that they have a status: if you're a revolutionary, you're not just a bank clerk or working in a shop, you are a revolutionary, and you never do anything to earn it except talk the language'. So that was some of the letters I got from The Good Terrorist.
And then I got a really funny one from... there was a time in Sri Lanka they had a – and I think they're still going – the rebels in Sri Lanka... she was captured by them. This woman wrote to me. She said she'd been captured by the rebels in Sri Lanka, and she said, 'They're all just as stupid as you say they are – with good wishes'. And oh, my God, no... I would love to have talked to her, but she didn't put her address on. So this was a missed opportunity, if there ever was one, because I would have loved to have known... six weeks is a long time to be captured by a terrorist group.
British writer Doris Lessing (1919-2013) was awarded the 2007 Nobel Prize in Literature. Her novels include 'The Grass is Singing', 'The Golden Notebook', and five novels collectively known as 'Canopus in Argos'. She was described by the Swedish Academy as 'that epicist of the female experience, who with scepticism, fire and visionary power has subjected a divided civilisation to scrutiny'. Lessing was the 11th woman and the oldest ever person to receive the Nobel Prize in Literature.
Title: Letters about "The Good Terrorist"
Listeners: Christopher Sykes
Christopher Sykes is an independent documentary producer who has made a number of films about science and scientists for BBC TV, Channel Four, and PBS.
Tags: Italy, The Good Terrorist, East London, Ireland, Sri Lanka
Duration: 3 minutes, 55 seconds
Date story recorded: June 2007
Date story went live: 21 October 2011