NEXT STORY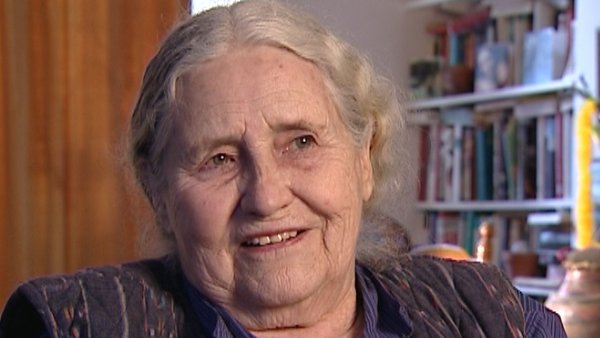 In search of a publisher
When idealism encountered colonial traditions
1
2
3
So the... anyone who could get a fare from anyone – in other words, the better-off people – went out to the Colonies. And so Southern Rhodesia was full of the middle-class who tried to get a farmer to teach them how to grow tobacco or something like that. So there were these assistants. Now, what happened with the assistants was one of two things: one was that they were so appalled at the society they found, they were so shocked at the way the Africans were treated that they – if they could get the money together – they instantly left and went back to England. And there were very many... many of them.
The other thing was that they became worse than their employers, which is another way of dealing with a... a thing... they became... they were quite famous for being worse – more brutal and more stupid. Because the old-style white farmers who had been there for a long time had acquired some kind of humanity, some kind of... it wasn't very good, but it was paternalistic and quite... it was better. And so if someone was trying to fit in – because it was very important to fit into this society – they might become worse than the worst of the white farmers. And so my... I had a... I thought I would have a character who would be neither so shocked that he'd have to go back to England, because then there'd be no more to be said, nor would he become worse than the people who'd employed him – he would remain and be shocked.
Now, here we have a great comic theme, in fact. An idealistic young Englishman – and they were loathed and hated by all the white settlers – an idealistic white Englishman shocked at what he found and trying to improve anyone, is a wonderful comic idea. It's a beautiful idea, and I'm sorry I couldn't write it, because even now when I think of it, the... the white people who... There were two classes of white people – I seem to be going off again – one was the girls who went out to get married, because, you know, people didn't have any money here – they... they couldn't get husbands. If they went out to the Colonies, they instantly got husbands because there weren't enough women, so they instantly got... immediately they married farmers or something or other, and they were... had to fall over themselves to be careful and not to criticise what they found, because of course they'd lose the husband at once; they'd have to... they became even worse than the white mistresses... the white missus.
The white assistants in due course became farmers themselves, and probably have lost their farms now under Mugabe, but... so I have this idealistic young white man... chap from England who keeps saying to all the white farmers, 'But you know, this is not right what you're doing; it's not... you really shouldn't talk to them like that; you should... it's not... I really must explain'. It... it was in fact a great comic idea, but I blew it.
British writer Doris Lessing (1919-2013) was awarded the 2007 Nobel Prize in Literature. Her novels include 'The Grass is Singing', 'The Golden Notebook', and five novels collectively known as 'Canopus in Argos'. She was described by the Swedish Academy as 'that epicist of the female experience, who with scepticism, fire and visionary power has subjected a divided civilisation to scrutiny'. Lessing was the 11th woman and the oldest ever person to receive the Nobel Prize in Literature.
Title: When idealism encountered colonial traditions
Listeners: Christopher Sykes
Christopher Sykes is an independent documentary producer who has made a number of films about science and scientists for BBC TV, Channel Four, and PBS.
Tags: Southern Rhodesia, South Africa, England, Robert Mugabe
Duration: 3 minutes, 30 seconds
Date story recorded: June 2007
Date story went live: 21 October 2011