NEXT STORY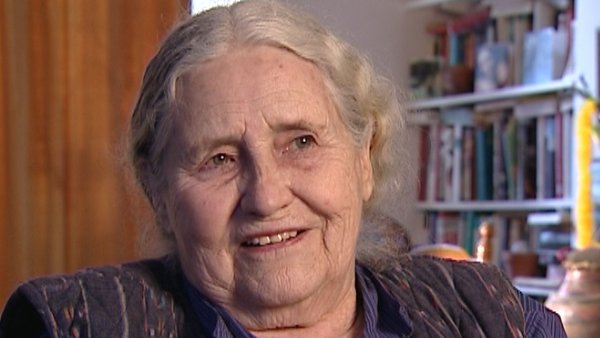 The Fifth Child
The lamentable gap between writers and academics
1
2
3
I made a start with an exemplary story. It comes from television – it was when Saul Bellow was being interviewed by an academic – this was quite a long time ago. And he had just had a novel out, and the academic was – as usually happens with academics – was trying to make comparisons between this novel and another novel, and he was saying to Saul Bellow, 'Now, Mr Bellow, what struck me about this novel is that how similar it is to – I don't know – Musil, A Man Without Qualities, or even Proust'. And Saul Bellow was saying, 'No, no, no, it's not like that at all, you know, it's not like that'. 'It's a scene at breakfast', said the academic, 'it could be easily Dostoevsky!' And Saul Bellow, 'No, no, you see, what you have to do, you see, is the sun shining? Perhaps it's snowing... what's it... what's it smell like? Have they made bread in that kitchen? Have they slept together the night before, he and his wife? Do they like each other? Do you see what I'm saying?', says Saul. This is what a writer is thinking about, not about some other book. 'Well', said... says the academic, 'Well, you know, it could easily be Rider Haggard – that bit about the dog, you know'. 'No, no, no', says Saul Bellow, 'not like that'.
Now, just imagine it: your hero is in the garden with the dog. The dog – now, what does that dog smell like? You know a dog smell – very strong smell, and the feel of the dog's coat on your hand. 'So, you see', says Saul Bellow, 'there you are in the garden and the dog, and it's a very affectionate dog, it leaps and bounds, it's very pleased to be out. And it's a wonderful day', says Saul, 'it's a wonderful day. Everybody's happy, and people...'
And the academic is saying, 'Now, Mr Bellow, look, when I read this book I got irresistible echoes from...' and he reels off Kierkegaard, perhaps, or something. And so this dialogue goes on between Saul Bellow and the academic; never the two shall meet. And this is my experience. They do not understand anything about writing, and how many times in my life have I had a similar conversation myself. So I'm quoting this right at the beginning, because I'm hoping that what I'm saying now might help to heal this absolutely lamentable... lamentable gap between writers and academics. They see different things, and I think it starts right at the beginning. A book appears, and here is a book – look, how elegant! It's so nice, and it's got a nice cover, and it's finished – that is the point, it's finished, you see, it's completed. You look at it, and the comma's in the right place... and the academic is thinking, 'Ah, look, now isn't that nice! Now, what does it remind me of?' Now that... this is how they talk, they can't think of any other way.
So in the meantime, what the writer is thinking – my God, do you think that that picture works? I've made so much effort getting that picture on to the cover, it's so pretty... Oh, says the author... and I'm thinking of months and months and months and months of hard work, maybe years... and there was that time when my parents turned up and I had to look after them for three weeks, I couldn't get to my work at all. And what about the time when I was sick? I had something or other, I didn't get... what an effort! What an effort it all was, and it went on and on. This is what the author is thinking; this is not something... they're looking at a process; this is what the author is thinking. There's a process here, but the academic doesn't see it at all, but this is what the author is seeing. You start with a vague idea somewhere in your mind, and the years go by and you think, well, I will write this one of these times – I will, but when? And then nothing happens.
And then suddenly it is the right time, and the book gets written, and all this history is in this artefact. But I think there are very few moments more surprising to any author that when this thing turns up – you've sent in to the publishers a great heap of whatever, manuscript, or whatever the thing is with a word processor, and what you get back is this – they have nothing in common. What... what you're remembering is the effort of it all. What you're seeing is a wonderful artefact which is the result of the work of large numbers of people in the publishing house, which has very little to do with how the book was written.
British writer Doris Lessing (1919-2013) was awarded the 2007 Nobel Prize in Literature. Her novels include 'The Grass is Singing', 'The Golden Notebook', and five novels collectively known as 'Canopus in Argos'. She was described by the Swedish Academy as 'that epicist of the female experience, who with scepticism, fire and visionary power has subjected a divided civilisation to scrutiny'. Lessing was the 11th woman and the oldest ever person to receive the Nobel Prize in Literature.
Title: The lamentable gap between writers and academics
Listeners: Christopher Sykes
Christopher Sykes is an independent documentary producer who has made a number of films about science and scientists for BBC TV, Channel Four, and PBS.
Tags: Saul Bellow
Duration: 5 minutes, 6 seconds
Date story recorded: June 2007
Date story went live: 21 October 2011