NEXT STORY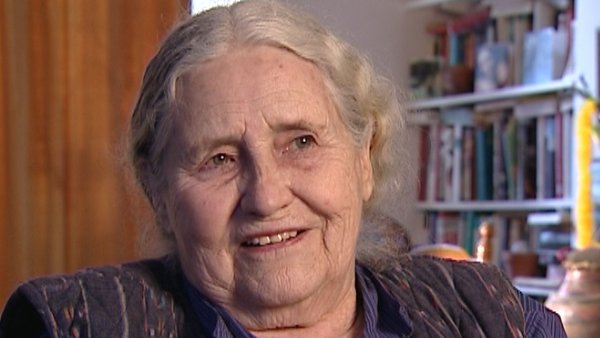 Who are the little people?
The Fifth Child
1
2
3
Now I'm going to talk about the history of one book and how it ended up, because I can illustrate a lot about this kind of difference doing that. And there is another misunderstanding which is very common, and it's this – it's a letter which you get from a fan: 'I too am wanting to be a writer, Mrs Lessing. Tell me, how do you get your plots? Where do you get your ideas from? Where do you get your inspiration?' And you write back and say, 'Well, you see, it's not really something that happens once, it might take years'. And you know quite well that this person who is wanting some information from you... where do you get...? Or you might write and say, well, you see a face on a bus, you hear something on the Underground, and it sets up a whole string of memories, and you think, my God, that's a short story!
Now, this is how books and stories get written. It's not a sort of inspiration like a butterfly suddenly arriving on your head... so you say, my God, that's an inspiration! Oh, good! This is how the outsiders might see it, or hopeful neophytes might see it, but in actual fact it's probably years of memory and ideas of... and a lot of thought ... that's it, a lot of thought goes into this.
Now, I'm going to start off with The Fifth Child, which is a book... one of my books that's got a kind of life of its own. Not all books do, but this does, and it's always coming to life again and being reprinted and so on, and I get a lot of letters... a lot of letters about it.
What I wanted to write, and did want for many, many years, was to write about that folk story about the fairies, or the little people. They leave one of their children in a human cradle, and this child grows up as a human and never knows it's one of the little people, or a goblin or a dwarf or anything like that. But the little people know it, and this story, as... as it is told in folklore, is the interaction between the little people watching the growth of their child in a human cradle in a human house, and the humans not knowing it. And as a story it has infinite variations – it's in every culture – it's in Africa... various places in Africa. Anywhere you go, you say, 'Do you have this story?' and they do have it in one form or another.
British writer Doris Lessing (1919-2013) was awarded the 2007 Nobel Prize in Literature. Her novels include 'The Grass is Singing', 'The Golden Notebook', and five novels collectively known as 'Canopus in Argos'. She was described by the Swedish Academy as 'that epicist of the female experience, who with scepticism, fire and visionary power has subjected a divided civilisation to scrutiny'. Lessing was the 11th woman and the oldest ever person to receive the Nobel Prize in Literature.
Title: "The Fifth Child"
Listeners: Christopher Sykes
Christopher Sykes is an independent documentary producer who has made a number of films about science and scientists for BBC TV, Channel Four, and PBS.
Tags: The Fifth Child
Duration: 2 minutes, 48 seconds
Date story recorded: June 2007
Date story went live: 21 October 2011