NEXT STORY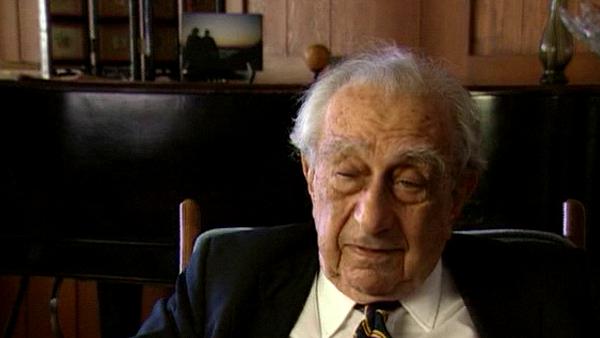 Getting together with Szilárd, von Neumann and Wigner
Unhappy high school memories
1
2
3
4
5
...
15
Now I want to tell you what happened to me in high school and I should say that this is a rather unhappy part of my life. My good mathematics teacher was fired. He was replaced by a disciplin- disciplinarian. Well, it turned out that what he taught us - from my answers he found out - I already knew it. He looked at me with sort of hostile eyes and said- What are you, a repeater? In the end, he was not unjust - he even gave me a high mark in the end but he spoiled my pleasure in mathematics. He taught me one thing, that formulae have to be written in a very clear, careful, beautiful way - which I am sorry to say I never, never learnt. But the main effect was, and this is one of my saddest memories, that for the time being I lost my interest in mathematics - not completely. I had a nice physics professor and a few years later when I was in the seventh or eighth grade - I think it was the last year, the eighth grade - I read or I should rather say I tried to read, a book by Einstein: relativity, explanation. Couldn't understand it! So I went to our nice physics professor and asked him the question- Where did you get that question from?- That book. - Show me the book. I brought the book. He said- I'll take it along. For a long time I did not see that book again. Then finally I ended my studies in the high school with good grades. My nice physics teacher Professor Tsiato came back to me, gave me the book and said- Here - now you can read it! It was a peculiar, a peculiar school. It had a beautiful past. It was founded by a Minister of Education, Secretary of Education by the name von Karman. His son who had studied there long before I did, had in the end come to the United States and was responsible for the early development of aerodynamics and flying, so that we entered the Second World War very well prepared. I didn't know it at that time.
The late Hungarian-American physicist Edward Teller helped to develop the atomic bomb and provided the theoretical framework for the hydrogen bomb. During his long and sometimes controversial career he was a staunch advocate of nuclear power and also of a strong defence policy, calling for the development of advanced thermonuclear weapons.
Title: Unhappy high school memories
Listeners: John H. Nuckolls
John H. Nuckolls was Director of the Lawrence Livermore National Laboratory from 1988 to 1994. He joined the Laboratory in 1955, 3 years after its establishment, with a masters degree in physics from Columbia. He rose to become the Laboratory's Associate Director for Physics before his appointment as Director in 1988.

Nuckolls, a laser fusion and nuclear weapons physicist, helped pioneer the use of computers to understand and simulate physics phenomena at extremes of temperature, density and short time scales. He is internationally recognised for his work in the development and control of nuclear explosions and as a pioneer in the development of laser fusion.
Duration: 3 minutes, 59 seconds
Date story recorded: June 1996
Date story went live: 24 January 2008