NEXT STORY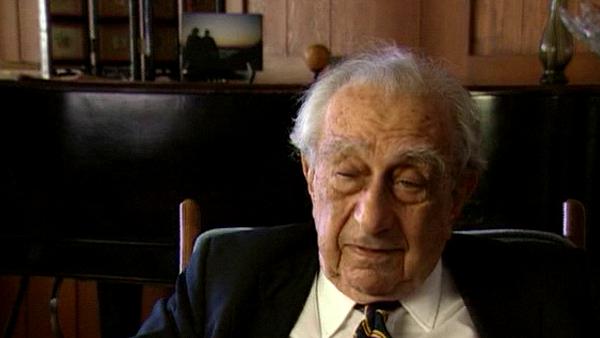 Szilárd's help with family (Part 1)
Testifying and the repercussions
1
...
10
11
12
13
14
15
I testified and in my testimony I still talked, I believe, positively about Oppenheimer. I said- I feel very confident that he never did anything that was intended to harm the United States. That is as far as I went. Then I was cross-examined by Oppenheimer's lawyer, and he asked me more explicitly- You have to tell us, should Oppenheimer be cleared or not? And then I did something which I regret. I said- As far as intentions are concerned he should be cleared. But many of his actions are complicated, I don't understand them, and I would like to see the security of the United States in hands which I understand better and therefore can trust. I said that under oath and, being under oath, I don't think I could have said less. But I tell you what I regret. I should have then and there told the story, Robb showed me the testimony, and that is the kind of thing which makes me sufficiently doubtful so that I cannot support Oppenheimer's clearance. What I said did not anywhere mention the hydrogen bomb and that was not in my mind. What was primarily on my mind is what I have heard about Oppenheimer's connections and specifically Oppenheimer's own testimony. But what I said has been misunderstood and could be easily misinterpreted as to saying that I didn't like Oppenheimer's actions on the hydrogen bomb and that is why I don't recommend his continued clearance. All of this had really hard consequences on me. My life from beginning to end was closely connected with science and not only with science, but with scientists. I don't like to think alone. I like to debate. I like to collaborate. That's what I did all my life. The way how I testified and the way how my testimony was interpreted separated me from most of the American physicists and this over the years, over the decades hurt me more and more. From my point of view in all of this, there is a bright spot. There were some whose friendship I did not lose and they included all of my Hungarian friends. People like Eugene Wigner, like Johnny von Neumann, understood, perhaps even in- approved of what I had said.
The late Hungarian-American physicist Edward Teller helped to develop the atomic bomb and provided the theoretical framework for the hydrogen bomb. During his long and sometimes controversial career he was a staunch advocate of nuclear power and also of a strong defence policy, calling for the development of advanced thermonuclear weapons.
Title: Testifying and the repercussions
Listeners: John H. Nuckolls
John H. Nuckolls was Director of the Lawrence Livermore National Laboratory from 1988 to 1994. He joined the Laboratory in 1955, 3 years after its establishment, with a masters degree in physics from Columbia. He rose to become the Laboratory's Associate Director for Physics before his appointment as Director in 1988.

Nuckolls, a laser fusion and nuclear weapons physicist, helped pioneer the use of computers to understand and simulate physics phenomena at extremes of temperature, density and short time scales. He is internationally recognised for his work in the development and control of nuclear explosions and as a pioneer in the development of laser fusion.
Duration: 5 minutes, 17 seconds
Date story recorded: June 1996
Date story went live: 24 January 2008