NEXT STORY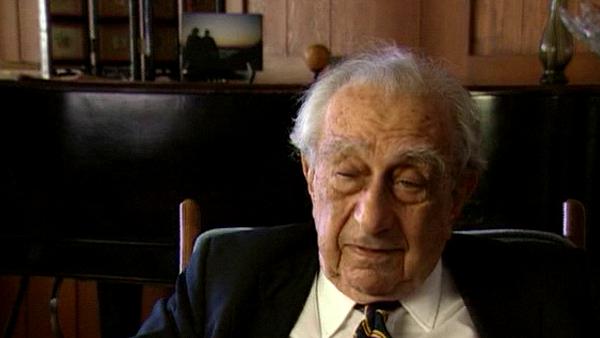 Szilárd working on a chain reaction
Discussing the atomic bomb with Leó Szilárd
1
...
5
6
7
8
9
...
15
There was one of my acquaintances who later became a very good friend. I had met him in Hungary when I was a high school student. His name was Leó Szilárd, perhaps - even including Johnny von Neumann - the most ingenious person whom I ever met. Some also thought the most disagreeable person. He paid no attention to people's feelings, he was ready to violate everybody's taste, except there was one thing, one bad thing he never did. Never, never did he bore anyone. Whatever he said may be objectionable, less often wrong, but boring or obvious, never. He was not invited to our conference, ever, but we knew each other. When the conference was over and Mici and I relaxed, we got a phone call. We'd got- had plenty of reasons to relax because most of the social entertainment for the conference was our job. And as I say, we'd said to each other- This was a nice conference, and thanks God it's over. And there goes the phone. Leó Szilárd- I heard about your conference, I am on my way to Washington. Meet me at the railroad station at such-and-such a time. OK. I told Mici and Mici said- Now, one thing, I am dead tired. Fine, but for God's sakes, not invite Szilárd to stay with us. So we went out, Mici was waiting in the car. I brought Szilárd and the first thing Mici says- Will you stay with us? Fine. Szilárd said- Of course. And this part of the story has a rapid and happy ending. We took Szilárd home, showed him to his room. He sat on the bed, he said- I slept here before and this bed is too hard. Is there a good hotel in the neighborhood? Well, Mici was exceedingly happy. The Wardman Park Hotel was visible from our place and there is where we put up Szilárd. But of course, the other part of the story was that Szilárd gave me a very detailed statement- Now is the time to make atomic bombs. That is what we did not discuss in the conference; that is what we avoided discussing. And I knew that this question in Szilárd's mind was not a novel one. Years before, just when I returned to England from Copenhagen, at that time I did not know Szilárd very well, but he came to me and he said- We now know that in nuclei there is a lot of energy. We now know that with the help of neutrons, this energy can be released. If we find a good way of doing it, that would lead to nuclear explosives.
The late Hungarian-American physicist Edward Teller helped to develop the atomic bomb and provided the theoretical framework for the hydrogen bomb. During his long and sometimes controversial career he was a staunch advocate of nuclear power and also of a strong defence policy, calling for the development of advanced thermonuclear weapons.
Title: Discussing the atomic bomb with Leó Szilárd
Listeners: John H. Nuckolls
John H. Nuckolls was Director of the Lawrence Livermore National Laboratory from 1988 to 1994. He joined the Laboratory in 1955, 3 years after its establishment, with a masters degree in physics from Columbia. He rose to become the Laboratory's Associate Director for Physics before his appointment as Director in 1988.

Nuckolls, a laser fusion and nuclear weapons physicist, helped pioneer the use of computers to understand and simulate physics phenomena at extremes of temperature, density and short time scales. He is internationally recognised for his work in the development and control of nuclear explosions and as a pioneer in the development of laser fusion.
Duration: 5 minutes, 3 seconds
Date story recorded: June 1996
Date story went live: 24 January 2008