NEXT STORY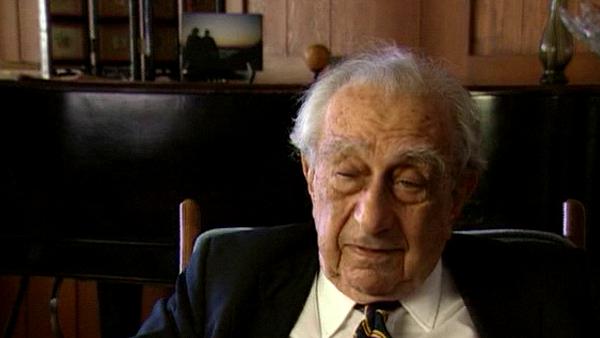 Writing to Roosevelt (Part 2)
Writing to Roosevelt (Part 1)
1
...
5
6
7
8
9
...
15
The one man who really wouldn't give up was, of course, Leó Szilárd. He, together with Eugene Wigner, went to Einstein, whom they knew way back from Berlin and they put the case before Einstein and asked him to use his authority. I don't know to what extent Einstein then agreed, but I know of first hand- first hand about it - was concerning Szilárd and concerning the point that Szilárd, with all his ingenuity, still did not know how to do one thing. He did not know how to drive a car. And so he asked, where I was teaching then summer school at Columbia, summer of '39, the 2nd of August, I think, to be precise, to drive me out, to drive- drive him out to the end of Long Island where Einstein spent his summer weeks. And I did drive, we didn't get into any trouble. We couldn't find Einstein, for the simple reason that Szilárd did not know where he lived, he only knew the name of the place. So we asked and finally we came down to a nice little girl, I don't think she was ten years old yet. She hadn't heard ever about Einstein either but then Szilárd said- This nice old man with the long white hair. - Oh yes, right there, next door. So we arrived. And Einstein invited Szilárd for tea and since he was very democratic he invited Szilárd's chauffeur as well. So I was there on the historic occasion when Szilárd took out the letter of Einstein to Roosevelt, from Szilárd's pocket - I think Szilárd's writing - informing the President of the possibility of an atomic bomb, of the real danger that the Nazis might do something about it. Szilárd gave the letter to Einstein and Einstein read it carefully. And my impression is that he read it- that he never had seen it before. At any rate, when he was through reading it, he said- Yes, yes. This would be the first time that nuclear energy would be re- would be released closer to us than in the sun. And he signed.
The late Hungarian-American physicist Edward Teller helped to develop the atomic bomb and provided the theoretical framework for the hydrogen bomb. During his long and sometimes controversial career he was a staunch advocate of nuclear power and also of a strong defence policy, calling for the development of advanced thermonuclear weapons.
Title: Writing to Roosevelt (Part 1)
Listeners: John H. Nuckolls
John H. Nuckolls was Director of the Lawrence Livermore National Laboratory from 1988 to 1994. He joined the Laboratory in 1955, 3 years after its establishment, with a masters degree in physics from Columbia. He rose to become the Laboratory's Associate Director for Physics before his appointment as Director in 1988.

Nuckolls, a laser fusion and nuclear weapons physicist, helped pioneer the use of computers to understand and simulate physics phenomena at extremes of temperature, density and short time scales. He is internationally recognised for his work in the development and control of nuclear explosions and as a pioneer in the development of laser fusion.
Duration: 3 minutes, 56 seconds
Date story recorded: June 1996
Date story went live: 24 January 2008