NEXT STORY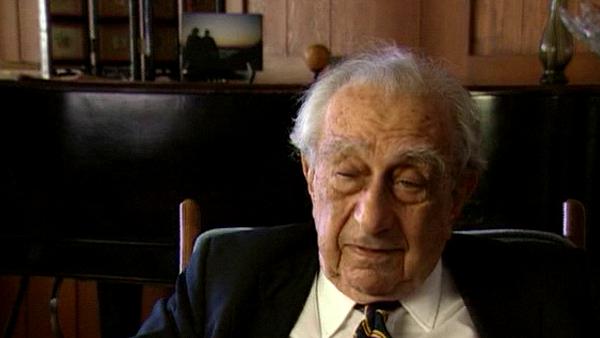 Changing ideas about whether the hydrogen bomb could be made
A negative influence by Bohr and working in secret
1
...
5
6
7
8
9
...
15
Now, I have to interrupt this progress and tell you that in the meantime we had one more very important participant, a negative one. That was Niels Bohr. We had a meeting with him, I believe even before the time that we had the important meeting of Fermi signing the letter. But I remember quite a few of us, not Fermi, but Szilárd and Wigner and Weisskopf and a few others, met with him at Stanford. He told us- Won't go, cannot be done. The active element which- which could do it, is the rare isotope of uranium; uranium 235. His friend, Johnny Wheeler and himself, Bohr, had proved that- We cannot get the material to make an atomic bomb, unless you wanted to turn the whole country into a factory. And incidentally, what we were doing then and there was very wrong. We tried to do it in secrecy and secrecy never worked and never will work. And to violate scientific openness would be a dreadful thing. Bohr was very serious about it. He took us one by one and each of us was to be convinced by Bohr. He did not convince us altogether. We wanted to proceed with it in secrecy and even Fermi agreed, if the others won't publish, we won't. But it was in vain, because in, in the meantime, the ideas also arose in France, to Joliot. He published everything, the possibilities and, at least in part, the work became open. At any rate, with the conference chaired by Briggs, recommending that we go ahead, we did go ahead, slowly. Heard that the British, under the influence of another German refugee, Peierls: they were doing very similar things but with the war effort going on they were very willing to work with us, to come to the United States and do whatever need be done. All this took time, month, many months and sometime arou- in that period, I believe it was still in '39, I first heard of the possibility in which later I was, was to per- participate in a rather thorough manner. I mean, the hydrogen bomb.
The late Hungarian-American physicist Edward Teller helped to develop the atomic bomb and provided the theoretical framework for the hydrogen bomb. During his long and sometimes controversial career he was a staunch advocate of nuclear power and also of a strong defence policy, calling for the development of advanced thermonuclear weapons.
Title: A negative influence by Bohr and working in secret
Listeners: John H. Nuckolls
John H. Nuckolls was Director of the Lawrence Livermore National Laboratory from 1988 to 1994. He joined the Laboratory in 1955, 3 years after its establishment, with a masters degree in physics from Columbia. He rose to become the Laboratory's Associate Director for Physics before his appointment as Director in 1988.

Nuckolls, a laser fusion and nuclear weapons physicist, helped pioneer the use of computers to understand and simulate physics phenomena at extremes of temperature, density and short time scales. He is internationally recognised for his work in the development and control of nuclear explosions and as a pioneer in the development of laser fusion.
Duration: 4 minutes, 42 seconds
Date story recorded: June 1996
Date story went live: 24 January 2008