NEXT STORY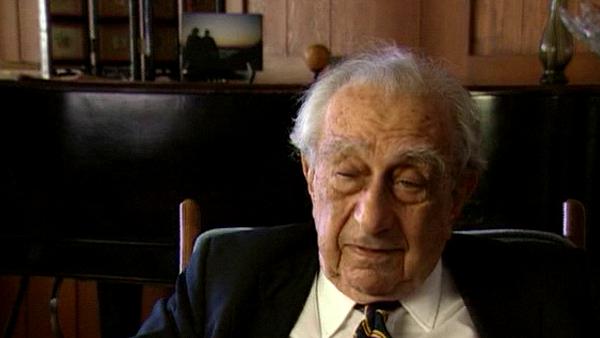 Making sure that an even greater explosion would not be set off
A difficult differential equation
1
...
6
7
8
9
10
...
15
I had, in that connection myself, something of a difficulty. The whole work seemed to be planned by Johnny von Neumann. Well, he told us about methods to produce in high explosives a spherical convergent motion. But the question, the hydrodynamics of an imploding shell, required a solution of differential equations that looked to me anything but simple. The Head of the Physics Department, of the theoretical work, Hans Bethe, wanted me to do this calculation. I begged off. It looked to me impossible to form- perform in an accurate manner. And there was a way out, because by that time, computers had made a lot of progress and instead of accurate analytic solutions, we could work with computer solutions, with numerical solutions. That would not have been, in itself, so hard. The difficulty was that the whole situation was a kind of motion which we call unstable. If we have a little inaccuracy in it, that the sphere was not quite a sphere, a shell was not a uniform shell but at some place it was a little thinner than at other places, then this lack of symmetry will grow. And to avoid that and to produce something really reliable, seemed to me a very difficult problem. I begged off. I don't think Bethe ever forgave me. Oppenheimer apparently, I think, in fact, understood. He let me do things that I felt I could accomplish better.
The late Hungarian-American physicist Edward Teller helped to develop the atomic bomb and provided the theoretical framework for the hydrogen bomb. During his long and sometimes controversial career he was a staunch advocate of nuclear power and also of a strong defence policy, calling for the development of advanced thermonuclear weapons.
Title: A difficult differential equation
Listeners: John H. Nuckolls
John H. Nuckolls was Director of the Lawrence Livermore National Laboratory from 1988 to 1994. He joined the Laboratory in 1955, 3 years after its establishment, with a masters degree in physics from Columbia. He rose to become the Laboratory's Associate Director for Physics before his appointment as Director in 1988.

Nuckolls, a laser fusion and nuclear weapons physicist, helped pioneer the use of computers to understand and simulate physics phenomena at extremes of temperature, density and short time scales. He is internationally recognised for his work in the development and control of nuclear explosions and as a pioneer in the development of laser fusion.
Duration: 3 minutes, 10 seconds
Date story recorded: June 1996
Date story went live: 24 January 2008