NEXT STORY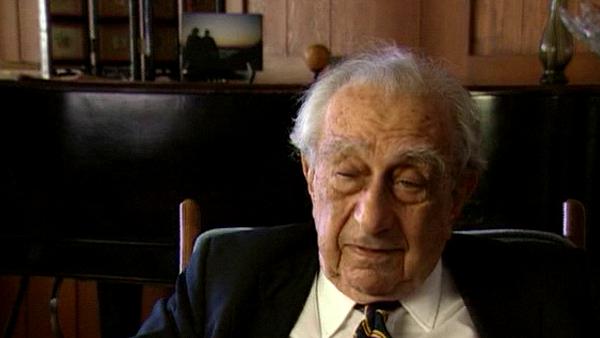 Progress in methods of making material
Talking to General Groves about an explosion
1
...
7
8
9
10
11
...
15
I am apt to confuse this occasion with another one, when General Groves, a very effective man, an intelligent man, but an uninformed man, who knew much more about administration than about technical things. One of- on one of my trips he called me early in the morning in New York- Come down to Washington at once. I went down. Another method of separating isotopes - due to some peculiar effect called thermal diffusion, which did work- did not work too effectively - it blew up. Be- I did not know how and why. I was sent to talk to people and found that a chemical mistake was made. In the afternoon here was General Groves, the leader of our effort and all his colonels and people and they asked questions about it and they asked and they asked, and General Groves tried to pay attention, but once in a while his chin dropped and I'm not quite sure for what fraction of a time he was napping, but once in a while he would become conscious and say- Well, Doctor Teller, all this is only theory. Finally, in discussing generally the methods of separating isotopes, one of the colonels spoke up and said- But wouldn't it be possible that by chance, just by chance, in one of these processes in Oak Ridge, all the uranium 235 would go to one end and all, all the 238s to the other end and you would have an explosion? So I said- Yes, that's possible. But it is just as probable as that all the oxygen in this, oxygen molecules in this room should meet under the table and let us up here to suffocate. At which point General Groves raised his chin and said- But Doctor Teller, you said it's possible. At which point Tolman spoke up and he said- General, Doctor Teller really means that it is not possible. The remarkable thing is Groves respected Tolman and having Tolman's approval in that one case he never again doubted anything I said.
The late Hungarian-American physicist Edward Teller helped to develop the atomic bomb and provided the theoretical framework for the hydrogen bomb. During his long and sometimes controversial career he was a staunch advocate of nuclear power and also of a strong defence policy, calling for the development of advanced thermonuclear weapons.
Title: Talking to General Groves about an explosion
Listeners: John H. Nuckolls
John H. Nuckolls was Director of the Lawrence Livermore National Laboratory from 1988 to 1994. He joined the Laboratory in 1955, 3 years after its establishment, with a masters degree in physics from Columbia. He rose to become the Laboratory's Associate Director for Physics before his appointment as Director in 1988.

Nuckolls, a laser fusion and nuclear weapons physicist, helped pioneer the use of computers to understand and simulate physics phenomena at extremes of temperature, density and short time scales. He is internationally recognised for his work in the development and control of nuclear explosions and as a pioneer in the development of laser fusion.
Duration: 3 minutes, 14 seconds
Date story recorded: June 1996
Date story went live: 24 January 2008