NEXT STORY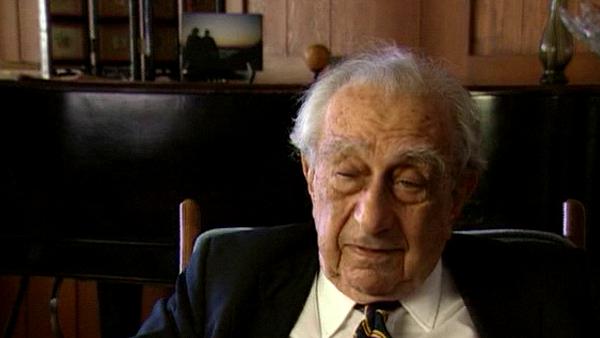 The end of the war in Europe but not in the Pacific
Fermi transferring to Los Alamos and a conclusion to the work
1
...
7
8
9
10
11
...
15
One of the fission products decayed into an element, I think it was xenon 135, a violent neutron absorber. But that saved the day because due to its strong neutron absorption it was destroyed rapidly. But if you close down the reactor, let xenon 135 accumulate, then you could not start it up again, a difficulty that took care of itself by waiting a while, but you have to understand it. At any rate, enough of the plutonium was made that together with our work on implosion there would not be a really bad shortage of it at the end- well when it became the end- at the end of the Second World War. All this work in Chicago was concluded by the end of 1944 and at that time, much to my pleasure, Fermi transferred to Los Alamos. He was put in charge of various things, among other things of the group with which I worked. And at that time I had a privilege which I share with very few people. I became the teacher of Fermi. I had to tell him what everybody in Los Alamos was doing and even excellent people- excellent student as Fermi was, and I claim not to have been a poor teacher, it took, it took almost a week before Fermi understood everything he wanted to know and that was just a little mot- bit more than everything that we knew. These were the conditions under which we were working. I, to some extent outside Los Alamos and a part of it of course was, what I already mentioned, the safety from nuclear explosions in other places like Oak Ridge. And one detail about that that I think is worth, worth mentioning, that I had a slightly ticklish job because I was not allowed to answer any questions, but people working on the other projects were instructed to answer all my questions. It says a lot about the character of the effective people who worked at that time, like Manson Benedict, that under these very unfavorable conditions, we worked well together and in fact established all the necessary mutual information.
The late Hungarian-American physicist Edward Teller helped to develop the atomic bomb and provided the theoretical framework for the hydrogen bomb. During his long and sometimes controversial career he was a staunch advocate of nuclear power and also of a strong defence policy, calling for the development of advanced thermonuclear weapons.
Title: Fermi transferring to Los Alamos and a conclusion to the work
Listeners: John H. Nuckolls
John H. Nuckolls was Director of the Lawrence Livermore National Laboratory from 1988 to 1994. He joined the Laboratory in 1955, 3 years after its establishment, with a masters degree in physics from Columbia. He rose to become the Laboratory's Associate Director for Physics before his appointment as Director in 1988.

Nuckolls, a laser fusion and nuclear weapons physicist, helped pioneer the use of computers to understand and simulate physics phenomena at extremes of temperature, density and short time scales. He is internationally recognised for his work in the development and control of nuclear explosions and as a pioneer in the development of laser fusion.
Duration: 4 minutes, 1 second
Date story recorded: June 1996
Date story went live: 24 January 2008