NEXT STORY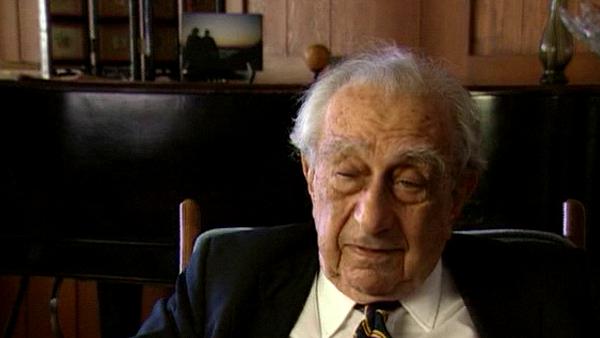 Talking to Chadwick about General Groves (Part 2)
Talking to Chadwick about General Groves (Part 1)
1
...
8
9
10
11
12
...
15
In the end, after four years, I decided I go back to Los Alamos for a year. They had planned a number of added important tests a year later and I wanted to work on it. So, in the late spring of 1949 I went and joined Los Alamos on leave of absence from Chicago. In the meantime I got involved in all kinds of other activities, including working on a committee, chairing a committee on the safety of nuclear reactors. And just at the time we were going to- I was going back to Los Alamos, we had planned a joint meeting with the British on the safety questions. So in the summer of '49, I went back to England for a number of discussions, mostly at Oxford. I remember that visit in England mostly because something not connected with reactors. The leader of the British delegation, the leader of the delegation of the British people who worked with us during the war years, Chadwick, had become one of the important people at Cambridge and invited me to lunch. Now Chadwick was very British. He hardly ever said a word, very reserved, very nice. I was invited to dinner and he sat there, but the conversation was between his wife and me. And we continued to talk about Los Alamos days, about this person, about that man. Chadwick sat there and said nothing.
The late Hungarian-American physicist Edward Teller helped to develop the atomic bomb and provided the theoretical framework for the hydrogen bomb. During his long and sometimes controversial career he was a staunch advocate of nuclear power and also of a strong defence policy, calling for the development of advanced thermonuclear weapons.
Title: Talking to Chadwick about General Groves (Part 1)
Listeners: John H. Nuckolls
John H. Nuckolls was Director of the Lawrence Livermore National Laboratory from 1988 to 1994. He joined the Laboratory in 1955, 3 years after its establishment, with a masters degree in physics from Columbia. He rose to become the Laboratory's Associate Director for Physics before his appointment as Director in 1988.

Nuckolls, a laser fusion and nuclear weapons physicist, helped pioneer the use of computers to understand and simulate physics phenomena at extremes of temperature, density and short time scales. He is internationally recognised for his work in the development and control of nuclear explosions and as a pioneer in the development of laser fusion.
Duration: 2 minutes, 56 seconds
Date story recorded: June 1996
Date story went live: 24 January 2008