NEXT STORY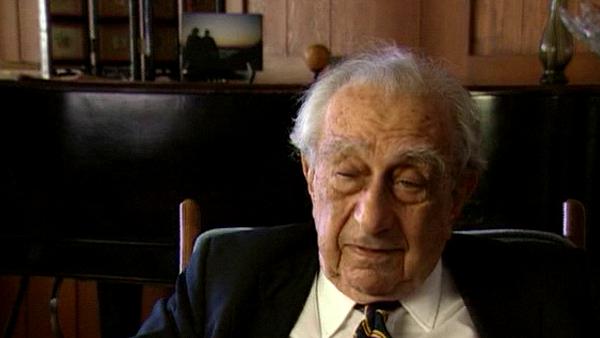 The decision to go ahead with the hydrogen bomb
Talking to Chadwick about General Groves (Part 2)
1
...
8
9
10
11
12
...
15
And then, Lady Chadwick - he was knighted by that time - Lady Chadwick asked me about General Groves. Now you know General Groves was not very popular. My few meetings with him, which I had mentioned, did not give me a terribly high opinion about him and so I made some not terribly complimentary remarks. At that point something happened to James Chadwick. In physical chemistry we would call it a phase transition. He suddenly became a talkative person and he spoke and he spoke and he praised General Groves; I was wrong in not giving him more credit, without General Groves we never would have finished the atomic bomb, all the scientists just played with the ideas; that there were- was really work on it was due to that one man. I got in a word edg- edgewise at that point and I said- But you know, General Groves was opposed to our collaboration with the British. - Oh yes, said Chadwick- I know that. Whatever- whatever General Groves said I could believe. What for instance, Oppenheimer said, I could not. He went on and on. In the end I said- Good night, walked back to my hotel and Chadwick walked me home and as- at the entrance of my hotel I said- Good-bye, he said something that I obviously cannot ever forget. He said- Remember what I told you today. You will use it. Would have been a remarkable statement coming from anybody, but coming from the reserved Chadwick, what was he talking about? I came back from this trip, stopped in Washington where in the Pentagon we discussed something of no interest that I forgot, but the man who talked to us, after he finished, at the very end, he said- Incidentally, I wanted to tell you that what Truman said today is true. I did not know what he meant. I stayed, asked him- Oh. Truman had said that the Soviets have exploded an atomic bomb.
The late Hungarian-American physicist Edward Teller helped to develop the atomic bomb and provided the theoretical framework for the hydrogen bomb. During his long and sometimes controversial career he was a staunch advocate of nuclear power and also of a strong defence policy, calling for the development of advanced thermonuclear weapons.
Title: Talking to Chadwick about General Groves (Part 2)
Listeners: John H. Nuckolls
John H. Nuckolls was Director of the Lawrence Livermore National Laboratory from 1988 to 1994. He joined the Laboratory in 1955, 3 years after its establishment, with a masters degree in physics from Columbia. He rose to become the Laboratory's Associate Director for Physics before his appointment as Director in 1988.

Nuckolls, a laser fusion and nuclear weapons physicist, helped pioneer the use of computers to understand and simulate physics phenomena at extremes of temperature, density and short time scales. He is internationally recognised for his work in the development and control of nuclear explosions and as a pioneer in the development of laser fusion.
Duration: 3 minutes, 59 seconds
Date story recorded: June 1996
Date story went live: 24 January 2008