NEXT STORY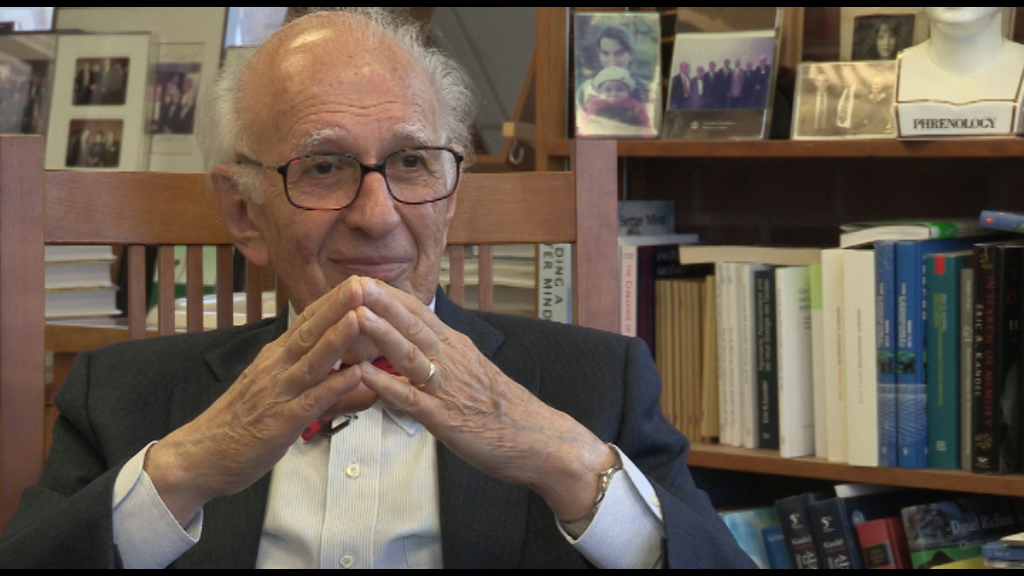 Thrilling discoveries about intracellular activity
Working with Alden Spencer
1
2
3
4
5
...
8
I'd learned from Paul MacLean how to [remove] the cerebral cortex, so that I could expose the hippocampus [lying below it]. It's a beautiful dissection. You look into the ventricle, and you see that the white matter is on top rather than being at the bottom. So you see the alveus which are the myelinated axons shining like a jewel in the ventricle. And I had just learned the dissection I was getting going, I really was not off the ground, when a third guy comes into the lab, Alden Spencer. And we're terribly afraid he's going to ask for equal time and we'd have no time to do anything. So each of us tried to convince him to join our project. So I show Alden the dissection, thinking that would win him over, and he loved it. And he decided he wanted to work on this, and we worked together. It turned out that Alden was very psychosomatic, and radioactive potassium was not something that attracted him at all. And this was the beginning, not only of a wonderful collaboration, but of a wonderful friendship.
While he was alive, there was no other scientist around who influenced me more than he did. And he and I decided together to attempt intracellular recordings from hippocampal neurons. We developed a very nice technique for reducing pulsations in the hippocampus, and within a few weeks we had our first intracellular recordings. It was unbelievable. The boom, boom, boom of the action potentials. Here we were recording single cells in the area concerned with memory. We were thrilled. We got several more recordings, people around us were ecstatic. Marshall… There was a guy called K Frank, I didn't mention him. K Frank was an extraordinarily gifted electrophysiologist working on the spinal cord doing intracellular recordings. [John] Eccles was the guy who pioneered this, but Frank was right next to him. And so I knew I could learn a lot from him as a fall back. Frank thought this was a little bit chancy, hippocampus, but he didn't discourage me from doing it. And I knew that if there were technical problems, he could bail us out. He was ecstatic. Walter Freygang was ecstatic. I was asked to give a seminar, filled the room. People thought this was great. Typical NIH experience. Two incompetent guys who don't know a goddamned thing, the environment brings them up, and look what they accomplish.
Eric Kandel (b. 1929) is an American neuropsychiatrist. He was a recipient of the 2000 Nobel Prize in Physiology or Medicine for his research on the physiological basis of memory storage in neurons. He shared the prize with Arvid Carlsson and Paul Greengard. Kandel, who had studied psychoanalysis, wanted to understand how memory works. His mentor, Harry Grundfest, said, 'If you want to understand the brain you're going to have to take a reductionist approach, one cell at a time.' Kandel then studied the neural system of the sea slug Aplysia californica, which has large nerve cells amenable to experimental manipulation and is a member of the simplest group of animals known to be capable of learning. Kandel is a professor of biochemistry and biophysics at the College of Physicians and Surgeons at Columbia University. He is also Senior Investigator in the Howard Hughes Medical Institute. He was the founding director of the Center for Neurobiology and Behavior, which is now the Department of Neuroscience at Columbia University. Kandel's popularized account chronicling his life and research, 'In Search of Memory: The Emergence of a New Science of Mind', was awarded the 2006 Los Angeles Times Book Award for Science and Technology.
Title: Working with Alden Spencer
Listeners: Christopher Sykes
Christopher Sykes is an independent documentary producer who has made a number of films about science and scientists for BBC TV, Channel Four, and PBS.
Tags: Paul MacLean, Alden Spencer, Karl Frank, John Eccles, Walter Freygang
Duration: 2 minutes, 38 seconds
Date story recorded: June 2015
Date story went live: 04 May 2016