NEXT STORY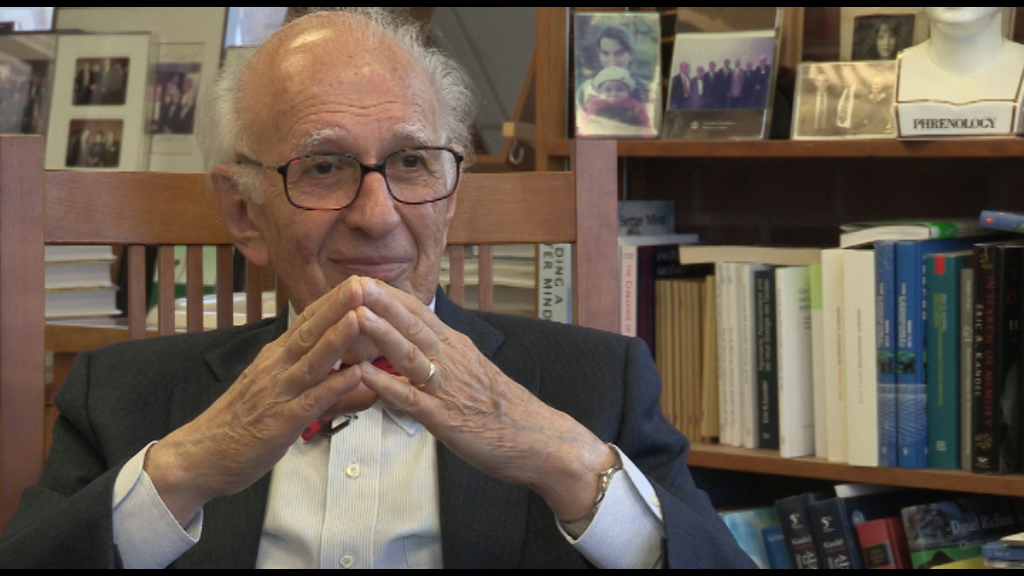 Discovering Aplysia
Thrilling discoveries about intracellular activity
1
2
3
4
5
...
8
Alden and I studied it quite thoroughly over a three-year period. I thought it was only going to be a two-year period. I was supposed to start my residency at Harvard in 1959, but I called up Dr Ewalt who was the chairman of the department and said, 'I'm in the midst of wonderful set of experiments, I'll never do anything comparable like this in science again, I wonder whether you can give me a year's extension?' He said take as long as you want. So instead of leaving in '59 I left in '60. So '57 to '60 I worked there, almost all that time Alden was there. And we recorded intracellularly from these cells. We described their properties, the action potentials, the resting potentials. Synaptic inputs into it, very powerful recurrent collaterals. They tended to fire in bursts, and we described the bursting activity. We also pioneered… we were not the first ones to do it, but very early ones. We had a bridge circuit so we could not only record, we could stimulate the individual cells. And then we found amazingly little spikelets that we could indirectly ascribe to coming from dendrites. So while everyone was thinking the dendrites gave rise to graded properties, we showed that the dendrites gave rise to little spikes that propagated to the initial segment where the big spike was initiated, and boom. So we had a lot of little insights in this thing, and we were very thrilled, and we published four papers back-to-back in the Journal of Neurophysiology. It was a big deal.
But we turned to each other, and we said, what the hell did we learn about memory? Not a goddamned thing. Memory is not a property of individual cells. These cells had some differences from motor neurons which is a prototype cell that had been studied well, the spinal cord motor neuron. It had some distinctive properties, this recurrent inhibition, the spikes in the dendrites, but that didn't tell us anything about memory storage. Memory, we realized, it's obvious, is a property of a neural circuit that is modified as a result of sensory input coming in. So we tried to see whether we could get sensory input in the hippocampus, we tried light, we tried touch, we tried pain, nothing worked. We didn't realize that [the hippocampus represents space and that] space represents multiple modalities, and so we decided we needed to take another approach, and we discussed repeatedly, over days, what approaches we would take.
Eric Kandel (b. 1929) is an American neuropsychiatrist. He was a recipient of the 2000 Nobel Prize in Physiology or Medicine for his research on the physiological basis of memory storage in neurons. He shared the prize with Arvid Carlsson and Paul Greengard. Kandel, who had studied psychoanalysis, wanted to understand how memory works. His mentor, Harry Grundfest, said, 'If you want to understand the brain you're going to have to take a reductionist approach, one cell at a time.' Kandel then studied the neural system of the sea slug Aplysia californica, which has large nerve cells amenable to experimental manipulation and is a member of the simplest group of animals known to be capable of learning. Kandel is a professor of biochemistry and biophysics at the College of Physicians and Surgeons at Columbia University. He is also Senior Investigator in the Howard Hughes Medical Institute. He was the founding director of the Center for Neurobiology and Behavior, which is now the Department of Neuroscience at Columbia University. Kandel's popularized account chronicling his life and research, 'In Search of Memory: The Emergence of a New Science of Mind', was awarded the 2006 Los Angeles Times Book Award for Science and Technology.
Title: Thrilling discoveries about intracellular activity
Listeners: Christopher Sykes
Christopher Sykes is an independent documentary producer who has made a number of films about science and scientists for BBC TV, Channel Four, and PBS.
Tags: Jack Ewalt
Duration: 2 minutes, 35 seconds
Date story recorded: June 2015
Date story went live: 04 May 2016