NEXT STORY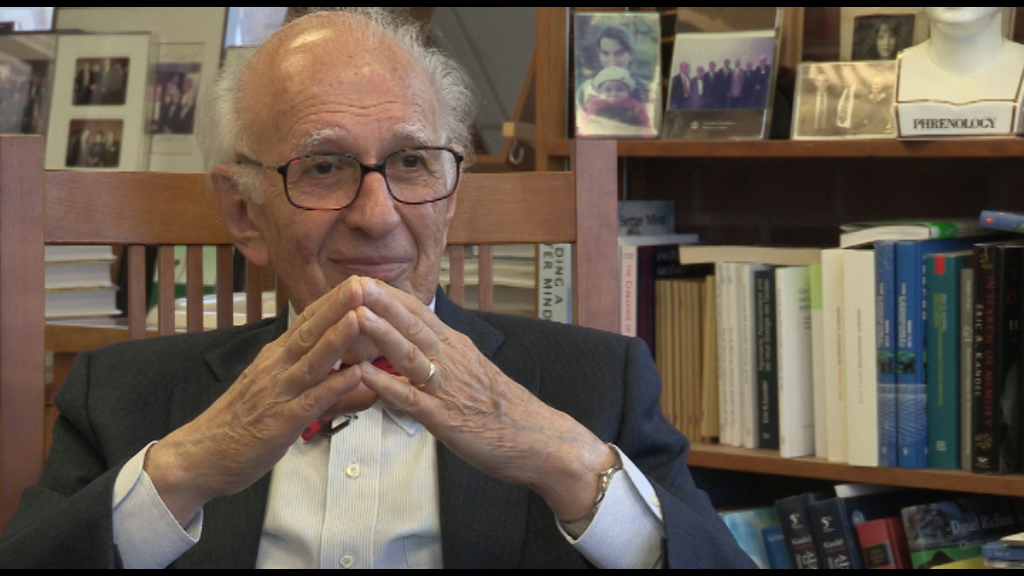 Discovering the machinery for turning on long-term memory
Cell accepts my article for publication
1
...
3
4
5
6
7
8
I also got to know Richard Axel who'd been recruited to Columbia just before that. And Richard Axel was a spectacular molecular biologist. And he and I bumped into each other at a faculty meeting one day, and on the way out he said, 'You know, I'm getting tired of all this gene cloning. I want to move into the nervous system, and I want to study the nerve biology of walking'. And I said, 'Well, maybe we're not quite ready for that, but maybe something in Aplysia.'
So we started to talk, and he went back to his lab, and he said, 'Anybody here interested in working on Aplysia?' And Richard Scheller volunteered. We began to talk, and we decided we'd pick up Irving Kupfermann's finding, that there's something released by the bag cells that is responsible for egg laying, and Scheller cloned the egg-laying hormone. Major article in Cell, first time I published anything in Cell. Except in the most remarkable way, Richard… I wrote it, I wrote the draft, I was very proud of myself. I mean, obviously they add a lot to it, but I remember Jimmy Schwartz saying to me, 'I wish I would have written that'. And Jimmy's a very good writer. I was really very inspired by that. And we sent it in, and Ben Lewin read it, showed it to somebody at MIT that afternoon, and in the evening he'd accepted it, he called Richard the next day, and he said, 'It's in'. And I think we had a chance to contribute something for the cover. I could be wrong on that.
So anyway, Richard got interested in the nervous system; that was very exciting. And with Philip Goelet, he encouraged me to actually set up in my lab – see, Jimmy was doing the biochemistry before – to set up the molecular biology in my lab, because Jimmy didn't know any molecular biology. And we wrote a sort of speculative review for Nature, suggesting that long-term memory involves the turning on of a cascade of transcription factors that leads to long-term memory. And as we were doing this, the likelihood of long-term memory [requiring transcription] became even more likely when we began to realize, from Craig Bailey's work with Mary Chen, that long-term memory differs from short-term memory in having the growth of anatomical connections with sensitization, and the retraction of connections with habituation.
Now that was a spectacular finding. Anatomical changes associated with it. So as I would begin to say to the medical students, if you remember anything about these lectures, it's because you're going to walk out of this with a different head than you walked into. It also changed my whole view about psychotherapy. I realized that insofar as psychotherapy works, it must be producing anatomical changes in the brain, and some day with imaging we should be able to pick that up. And now that's possible to demonstrate.
Eric Kandel (b. 1929) is an American neuropsychiatrist. He was a recipient of the 2000 Nobel Prize in Physiology or Medicine for his research on the physiological basis of memory storage in neurons. He shared the prize with Arvid Carlsson and Paul Greengard. Kandel, who had studied psychoanalysis, wanted to understand how memory works. His mentor, Harry Grundfest, said, 'If you want to understand the brain you're going to have to take a reductionist approach, one cell at a time.' Kandel then studied the neural system of the sea slug Aplysia californica, which has large nerve cells amenable to experimental manipulation and is a member of the simplest group of animals known to be capable of learning. Kandel is a professor of biochemistry and biophysics at the College of Physicians and Surgeons at Columbia University. He is also Senior Investigator in the Howard Hughes Medical Institute. He was the founding director of the Center for Neurobiology and Behavior, which is now the Department of Neuroscience at Columbia University. Kandel's popularized account chronicling his life and research, 'In Search of Memory: The Emergence of a New Science of Mind', was awarded the 2006 Los Angeles Times Book Award for Science and Technology.
Title: "Cell" accepts my article for publication
Listeners: Christopher Sykes
Christopher Sykes is an independent documentary producer who has made a number of films about science and scientists for BBC TV, Channel Four, and PBS.
Tags: Cell, Aplysia, Richard Axel, Richard Schiller, Ben Lewin
Duration: 3 minutes, 9 seconds
Date story recorded: June 2015
Date story went live: 04 May 2016