NEXT STORY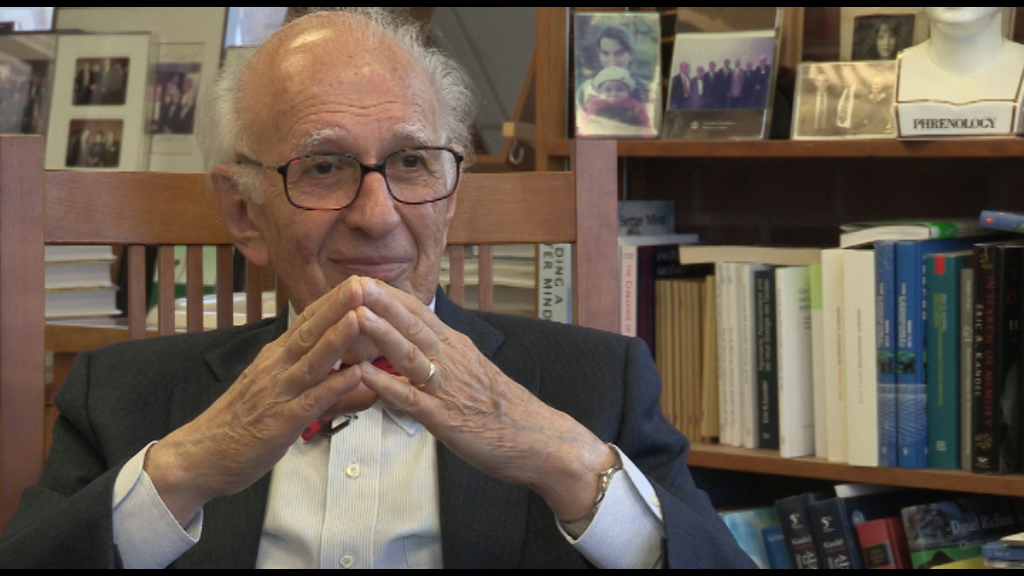 Investigating the initiation and maintenance of long-term memory
Discovering the machinery for turning on long-term memory
1
...
3
4
5
6
7
8
So this was a very exciting period. So we wanted to identify some of the molecular mechanisms underlying this. So we began to test this idea. So - we knew that the cyclic AMP dependent protein kinase could activate a particular transcription factor called CREB - cyclic AMP response element-binding protein. And how that happened was that the cyclic AMP dependent protein kinase moved into the nucleus to activate CREB. So Roger Tsien had developed imaging techniques and he relabelled the cyclic AMP dependent protein kinase, and we actually saw it move into the nucleus with repeated serotonin applications.
And then, first Pramod Dash and then Dusan Bartsch showed that CREB was critically involved. Pramod Dash just showed that if you inject a blocker of CREB it blocks long-term memory. Dusan Bartsch actually cloned CREB and showed that if you inject the phosphorylated form of CREB you don't need anything; you can get long-term facilitation. Doesn't last very long, but you can turn it on. Moreover he made an amazing discovery. He found there were two CREBs: CREB1 and CREB2. CREB1 activates transcription, and CREB2 inhibits CREB1. That was fascinating. And he realized that there was a machinery for turning on the long-term process. And that machinery became even more interesting about five or six years ago when Priya Rajasethupathy, a fantastic MD-PhD student was in my lab, and she found that there are small RNAs that regulate CREB1 and CREB2. There's one, a micro RNA, that normally inhibits CREB1, and serotonin releases that inhibition, turning on CREB1. But in addition there's a piRNA which no one realized exists in a nervous system, a whole bunch of them. And one of them inhibits CREB2 and gets turned on by serotonin. So serotonin relieves the inhibition in CREB1, turns on the inhibition of CREB2, so CREB1 can be on for longer period of time to turn on the long-term process. Really quite beautiful. So with time we've got a very good understanding of how that transcriptional cascade works, and the growth of new synaptic connections.
And that has turned out to be a very general mechanism. In almost every learning process, simple or complicated - Aplysia, hippocampus - that one looks at, long-term memory involves CREB. May not be by itself, but acting with other, you know, colleagues, but it's a critical factor in it. But that generality was reassuring, but it raised an important problem in the cell biology of neurons.
Eric Kandel (b. 1929) is an American neuropsychiatrist. He was a recipient of the 2000 Nobel Prize in Physiology or Medicine for his research on the physiological basis of memory storage in neurons. He shared the prize with Arvid Carlsson and Paul Greengard. Kandel, who had studied psychoanalysis, wanted to understand how memory works. His mentor, Harry Grundfest, said, 'If you want to understand the brain you're going to have to take a reductionist approach, one cell at a time.' Kandel then studied the neural system of the sea slug Aplysia californica, which has large nerve cells amenable to experimental manipulation and is a member of the simplest group of animals known to be capable of learning. Kandel is a professor of biochemistry and biophysics at the College of Physicians and Surgeons at Columbia University. He is also Senior Investigator in the Howard Hughes Medical Institute. He was the founding director of the Center for Neurobiology and Behavior, which is now the Department of Neuroscience at Columbia University. Kandel's popularized account chronicling his life and research, 'In Search of Memory: The Emergence of a New Science of Mind', was awarded the 2006 Los Angeles Times Book Award for Science and Technology.
Title: Discovering the machinery for turning on long-term memory
Listeners: Christopher Sykes
Christopher Sykes is an independent documentary producer who has made a number of films about science and scientists for BBC TV, Channel Four, and PBS.
Tags: CREB1, CREB2, Pramod Dash, Dusan Bartsch, long-term memory, micro RNA, serotonin
Duration: 3 minutes, 8 seconds
Date story recorded: June 2015
Date story went live: 04 May 2016