NEXT STORY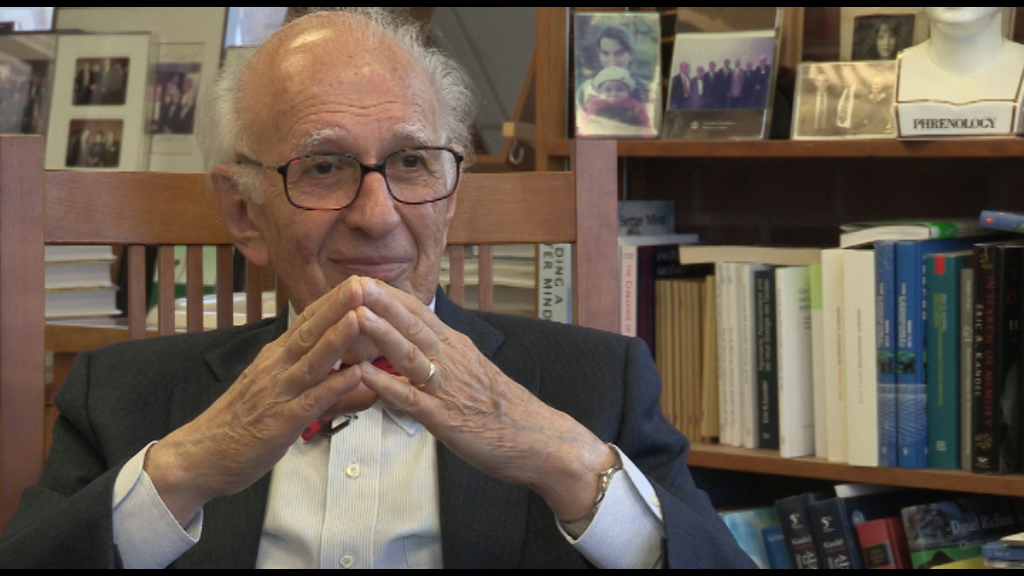 Art and science combined
Investigating the paradigm that nicotine boosts the effects of cocaine
1
...
4
5
6
7
8
Denise, who's a wonderful scientist, is interested in how kids get involved with drugs. And she wrote a major paper in Science in the early '70s in which she pointed out, there's a sequence of steps whereby kids get involved in drugs. They don't begin with cocaine or heroin. They begin with smoking and drinking. She found this in all societies, and you know, etcetera. And after a while she realized that these were correlational models, she doesn't know whether it's… maybe it's the availability of the drugs that determines that. So she wanted to develop an animal model for this, and she looked for people to collaborate with, and she wasn't able to convince anybody. So I volunteered, and we collaborated together. And Amir Levine joined us, and we used the mouse model, and we developed the paradigm, this gateway paradigm that she had provided evidence for, but we could do manipulations that she couldn't do.
We gave the animal nicotine first and then cocaine, and then we gave an animal cocaine first and then nicotine. When we gave an animal nicotine and then cocaine, nicotine enhanced the effects of cocaine on every level. The level of behavior, the level of physiology, the level of gene expression. Nicotine inhibited a particular enzyme, a histone deacetylase, that allowed the acetylation of chromatin to be active for a longer period of time, and boom, cocaine was just active for very long.
If you gave cocaine first and then nicotine, no affect whatsoever. This was extremely important, and it got all sorts of attention. Moreover, we made a very interesting finding. We found that for cocaine to have this booster effect, nicotine had to be on board. If you stopped taking nicotine for five or six days, cocaine was not amplified. She went back and she examined the data in human populations, and found exactly the same thing.
So this was really very encouraging. So we were invited to give the Shattuck Lecture for The New England Journal of Medicine. This was… our first paper was written up in Science Translational Medicine, but this was an invited lecture, we talked about that. And by the time the paper came out in the galleys we were able… she was able to ask something very interesting. People were getting interested in e-cigarettes, and they thought they were great because they didn't cause lung cancer. But Denise pointed out that the effects on the brain were every bit as strong. It's, you know, perfect delivery system for nicotine to the brain. So for elderly people who've been smoking a long time, it could be beneficial, but for young people, this was likely not to reduce the tendency for addiction with other things. We then went on with Eddie Griffin, and we're just doing this now, to explore alcohol and cocaine, and we see very similar effects. So it's been really very nice, and I think she's slowly but surely convinced that I'm not yet intellectually dead.
Eric Kandel (b. 1929) is an American neuropsychiatrist. He was a recipient of the 2000 Nobel Prize in Physiology or Medicine for his research on the physiological basis of memory storage in neurons. He shared the prize with Arvid Carlsson and Paul Greengard. Kandel, who had studied psychoanalysis, wanted to understand how memory works. His mentor, Harry Grundfest, said, 'If you want to understand the brain you're going to have to take a reductionist approach, one cell at a time.' Kandel then studied the neural system of the sea slug Aplysia californica, which has large nerve cells amenable to experimental manipulation and is a member of the simplest group of animals known to be capable of learning. Kandel is a professor of biochemistry and biophysics at the College of Physicians and Surgeons at Columbia University. He is also Senior Investigator in the Howard Hughes Medical Institute. He was the founding director of the Center for Neurobiology and Behavior, which is now the Department of Neuroscience at Columbia University. Kandel's popularized account chronicling his life and research, 'In Search of Memory: The Emergence of a New Science of Mind', was awarded the 2006 Los Angeles Times Book Award for Science and Technology.
Title: Investigating the paradigm that nicotine boosts the effects of cocaine
Listeners: Christopher Sykes
Christopher Sykes is an independent documentary producer who has made a number of films about science and scientists for BBC TV, Channel Four, and PBS.
Tags: Shattuck Lecture, Denise Kandel, Amir Levine
Duration: 3 minutes, 10 seconds
Date story recorded: June 2015
Date story went live: 04 May 2016