NEXT STORY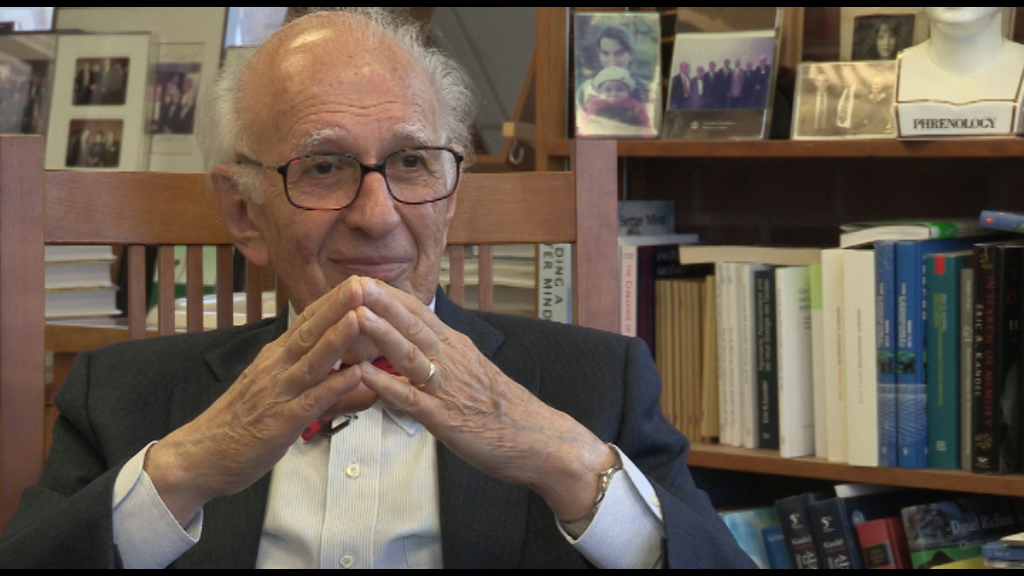 Sailing to Hoboken
Kristallnacht – the turning point in my family's history
1
2
3
4
5
...
8
Before we left, we had a horrendous event, and that is on November 9th 1938, all hell broke out in Vienna with Kristallnacht. There was a Jewish boy called Grynszpan, lived in Paris, must have been 19 or 20 years old, whose parents, foreign Jews living in Germany, had been picked up by the Nazis, and dumped over the Polish border. Without any questions asked, they just picked them up, dropped them over. No place to go.
Grynszpan was so enraged by this, he went into the German embassy and, thinking he shot the ambassador, he shot one of the other people working there. And that set off a rampage in which every single synagogue in Austria and Germany was destroyed, with rare exception. Jewish people were driven out of their homes. I remember it vividly, because this was the 9th of November. The 7th of November was my birthday, and I'd gotten a number of presents from my parents, including a car that I was longing to have. It was remotely controlled, so I could drive it around our little apartment, and I did this with great joy for a couple of days.
And then they came, they said… two guys came into our house, they banged on the door. Marched into the apartment, told us to pack up a few things that we would go and live with somebody else for a few days, and then come back.
And so I just… my mother said, just take a few things. I took a few clothing things. My brother, of course infinitely more intelligent, took his stamp collection. Everything that was... his coin collection, everything that was worthwhile. I did not think of taking any of my toys. Also I was so nervous, I didn't think of almost anything. We went to another family that we had never met before. Much more affluent than us, but they were quite gracious. But they were as uncomfortable having us as we were uncomfortable being there. We stayed with them for about a week. When we came back, the apartment was not recognizable.
Everything of value was gone, including my toy car, my mother's fur coats, everything. Fortunately my father who'd been rounded up and we hadn't seen for a week came back. He had been rounded up, put together with men in an armory, but because he had fought in the First World War, he was released. But his store was taken away from him. What I did not know then and I found out many years later that, from that moment on, my father was absolutely destitute. He had absolutely no financial resources.
He went to the Kultusgemeinde der Stadt Wien, social service agency to which every Jewish family belonged, and he had been a member in good standing since he married, and they supported him until the time he left.
Eric Kandel (b. 1929) is an American neuropsychiatrist. He was a recipient of the 2000 Nobel Prize in Physiology or Medicine for his research on the physiological basis of memory storage in neurons. He shared the prize with Arvid Carlsson and Paul Greengard. Kandel, who had studied psychoanalysis, wanted to understand how memory works. His mentor, Harry Grundfest, said, 'If you want to understand the brain you're going to have to take a reductionist approach, one cell at a time.' Kandel then studied the neural system of the sea slug Aplysia californica, which has large nerve cells amenable to experimental manipulation and is a member of the simplest group of animals known to be capable of learning. Kandel is a professor of biochemistry and biophysics at the College of Physicians and Surgeons at Columbia University. He is also Senior Investigator in the Howard Hughes Medical Institute. He was the founding director of the Center for Neurobiology and Behavior, which is now the Department of Neuroscience at Columbia University. Kandel's popularized account chronicling his life and research, 'In Search of Memory: The Emergence of a New Science of Mind', was awarded the 2006 Los Angeles Times Book Award for Science and Technology.
Title: Kristallnacht – the turning point in my family's history
Listeners: Christopher Sykes
Christopher Sykes is an independent documentary producer who has made a number of films about science and scientists for BBC TV, Channel Four, and PBS.
Tags: Herschel Grynszpan
Duration: 3 minutes, 12 seconds
Date story recorded: June 2015
Date story went live: 04 May 2016