NEXT STORY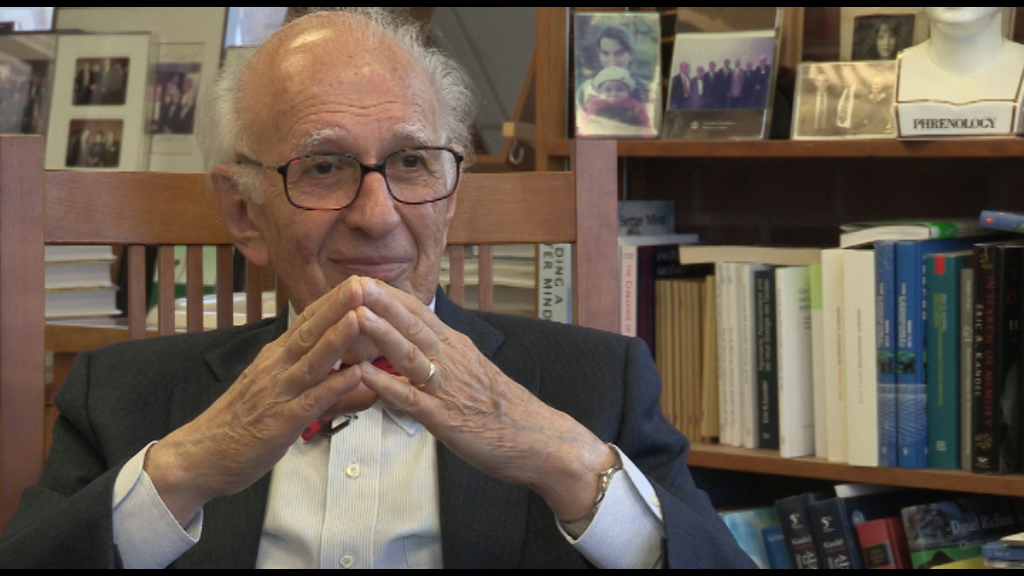 The love of a good woman
Contemplating life's imponderables
1
...
4
5
6
7
8
[Q] I suppose, unless you tell me it's none of my business and I shouldn't ask you, what I want to know is how you think about death.
I don't actively think about it, but obviously I'm not going to escape it. I hope it's peaceful. I would not like to suffer, and I'm prepared to make that as a written statement that I think I should be spared suffering. To be honest with you, I'm more afraid of being alone if Denise's death precedes mine, than I am worried about my own death. I think it would be very difficult for me to be alone. We've been married for… it'll be 60 years this year. And in many ways our interdependencies are extraordinary. And our affection is great.
[Q] Do you think of your legacy? Scientific legacy?
A little bit. I'm certainly obviously aware of it in the context of this Web of Stories. You know, it amazes me how few people know Sherrington, or Eccles, or Kuffler. So I realize that, you know, this is a passing thing. But I'm very pleased, I'm very grateful for what I've been able to accomplish. I feel myself very fortunate to have done it. Never expected this of myself. Far beyond anything I ever expected. And there's a Hebrew expression called dayenu, that's sufficient, and I feel dayenu.
[Q] Did you want to talk about religion in your life, or…?
Religion in my life. No, I'd rather not.
[Q] Okay.
I mean, I can speak about my Jewishness.
[Q] It would be really good, just imagine a sort of…
I'm not a religious Jew. I don't observe the Sabbath. I do go to the synagogue on High Holy Days. And my children are more religious than we are. But I feel myself very Jewish. I feel very comfortable being Jewish. I like Yiddish. When I was young my mother would take me to the Yiddish theatre on Second Avenue in New York; I enjoyed that a great deal. And I identify very strongly with the Jewish religion. Not with Netanyahu, identify strongly with Israel, but a progressive two-state Israel, not the Israel we're seeing now. And I'm very proud of what Israel has accomplished. An enormous, you know, democratic state, and an environment that was not democratic when it started, although it's veering away from that. Great intellectual accomplishments in science, in industry, in art. Great biotechnology. It's really spectacular what it's done. And I like the emphasis that Judaism has placed on scholarship. Also…
[Q] Was your grandfather influencing in…?
Oh, a wonderful scholar. He read Goethe and Schiller, he didn't just read, he knew it. Particularly Heine who was born a Jew. No, he was very scholarly. And his attitude towards Hebrew, the Talmud, was very scholarly. He was a remarkable man. Yes. And my brother was a fantastic scholar. Yes.
Eric Kandel (b. 1929) is an American neuropsychiatrist. He was a recipient of the 2000 Nobel Prize in Physiology or Medicine for his research on the physiological basis of memory storage in neurons. He shared the prize with Arvid Carlsson and Paul Greengard. Kandel, who had studied psychoanalysis, wanted to understand how memory works. His mentor, Harry Grundfest, said, 'If you want to understand the brain you're going to have to take a reductionist approach, one cell at a time.' Kandel then studied the neural system of the sea slug Aplysia californica, which has large nerve cells amenable to experimental manipulation and is a member of the simplest group of animals known to be capable of learning. Kandel is a professor of biochemistry and biophysics at the College of Physicians and Surgeons at Columbia University. He is also Senior Investigator in the Howard Hughes Medical Institute. He was the founding director of the Center for Neurobiology and Behavior, which is now the Department of Neuroscience at Columbia University. Kandel's popularized account chronicling his life and research, 'In Search of Memory: The Emergence of a New Science of Mind', was awarded the 2006 Los Angeles Times Book Award for Science and Technology.
Title: Contemplating life's imponderables
Listeners: Christopher Sykes
Christopher Sykes is an independent documentary producer who has made a number of films about science and scientists for BBC TV, Channel Four, and PBS.
Tags: death, legacy, gratitude, Jewishness, Judaism
Duration: 3 minutes, 50 seconds
Date story recorded: June 2015
Date story went live: 04 May 2016