NEXT STORY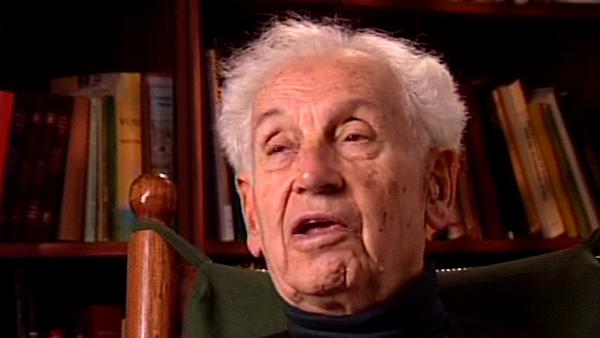 The biology department at Harvard
I make changes at the Museum of Comparative Zoology
1
...
8
9
10
11
12
...
15
I realised that the museum was in need of all sorts of things. First of all it was an old building, might be about seventy or eighty years old and there were no - there was no laboratory space and we obviously needed a laboratory wing for all sorts of fields, particular the modern molecular biology and in behaviour studies they needed laboratories, in functional morphology they needed laboratories. So that was my first thing to get a new wing for the museum, for the, for the Museum of Comparative Zoology. The second thing was the field work. Yes, students had been doing field work on my place in New Hampshire and other students had gone up to the - gone out to the Harvard forest which is oh, almost a hundred miles west of, of Cambridge and would require a whole day to go there and back. And I said that that isn't good enough to do field work for, for an active student who has courses to take and all that. We need a place right near to Harvard, as near as possible. So I began to search and was helped by Charles Lehman, one of the people working in the mammal department. We looked over some place south of Boston and it turned out not to be suitable, and then another member of the staff in mammal department, Barbara Lowen said "Well there's a wonderful piece of woodland in Concord, the Esterbrook woods, maybe we could get those." So, so she got me in touch with the head of the, of the conservation department of the town of Concord, and he said "Oh, I've been trying to save this [property] but I never knew how to." And so he persuaded the landowners to sell, I think it was eight parcels of land to Harvard and I managed to get the Ford Foundation to give me the money to buy it and now this wonderful piece of forest, already described by Henry Thoreau in his writings, seven hundred plus acres, is now owned by the Museum of Comparative Zoology.
The late German-American biologist Ernst Mayr (1904-2005) was a leading light in the field of evolutionary biology, gaining a PhD at the age of 21. He was also a tropical explorer and ornithologist who undertook an expedition to New Guinea and collected several thousand bird skins. In 1931 he accepted a curatorial position at the American Museum of Natural History. During his time at the museum, aged 37, he published his seminal work 'Systematics and Origin of the Species' which integrated the theories of Darwin and Mendel and is considered one of his greatest works.
Title: I make changes at the Museum of Comparative Zoology
Listeners: Walter J. Bock
Walter J. Bock is Professor of Evolutionary Biology at Columbia University. He received his B.Sc. from Cornell and his M.A. and Ph.D. from Harvard. His research lies in the areas of organismal and evolutionary biology, with a special emphasis on functional and evolutionary morphology of the skeleto-muscular system, specifically the feeding apparatus of birds.
Tags: Museum of Comparative Zoology, Harvard University, New Hampshire, Cambridge, Massachusetts, Boston, Concord, Massachusetts, Ford Foundation, Henry David Thoreau
Duration: 2 minutes, 24 seconds
Date story recorded: October 1997
Date story went live: 24 January 2008