NEXT STORY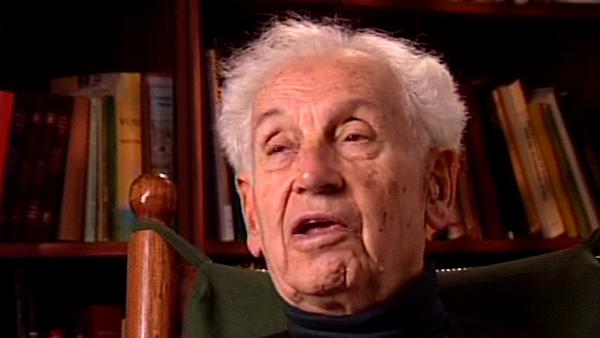 Shortening the book
An attack on 'beanbag genetics'
1
...
10
11
12
13
14
15
My philosophy in this [sic] was a very strong emphasis on the holistic aspects of the genotype and the holistic aspects of species and of evolution. This… again it was a… a attack or a criticism of what I had called 'beanbag genetics'. Beanbag genetics I referred to, when I used that term, I referred to the kind of genetics that RA Fisher was particularly well known for, who said that he would only study so-called additive gene effects which means only the effects of a gene directly on a phenotype and not the interaction of genes, in other words, epistatic interactions. And I said this is… this is a… a very unrealistic approach because genes constantly interact with each other, any particular gene in one genetic context might be highly favorable, and that very same gene in another genetic context might actually be lethal. Well, for a long time the geneticists very much resisted this kind of thinking, but again as a… in the last five or 10 years quite a few authors have come… come out with supporting my ideas. Of course, epistatic interactions, there are no good techniques by which to study them and this is the reason why the geneticists have been so unhappy about the idea of epistatic interactions. Now, at the same time, also, I was constantly emphasizing that the individual as a whole, and as a matter of fact, the phenotype of the individual is the actual target of selection, the actual object of selection, while the geneticists in the… in the 1960s, when the book was published, were still all thinking of the gene being the target of selection. All their discussions were gene-centerd, if you may want to coin that term, and I think that all of this gave this book a… an approach and a intellectual climate, if I may put it that way, that was very different from the genetic volumes that were published at the same time. And the book had a very considerable influence, and as I said, it was very widely used in teaching.
The late German-American biologist Ernst Mayr (1904-2005) was a leading light in the field of evolutionary biology, gaining a PhD at the age of 21. He was also a tropical explorer and ornithologist who undertook an expedition to New Guinea and collected several thousand bird skins. In 1931 he accepted a curatorial position at the American Museum of Natural History. During his time at the museum, aged 37, he published his seminal work 'Systematics and Origin of the Species' which integrated the theories of Darwin and Mendel and is considered one of his greatest works.
Title: An attack on 'beanbag genetics'
Listeners: Walter J. Bock
Walter J. Bock is Professor of Evolutionary Biology at Columbia University. He received his B.Sc. from Cornell and his M.A. and Ph.D. from Harvard. His research lies in the areas of organismal and evolutionary biology, with a special emphasis on functional and evolutionary morphology of the skeleto-muscular system, specifically the feeding apparatus of birds.
Tags: 1960s, Ronald Fisher
Duration: 2 minutes, 27 seconds
Date story recorded: October 1997
Date story went live: 24 January 2008