NEXT STORY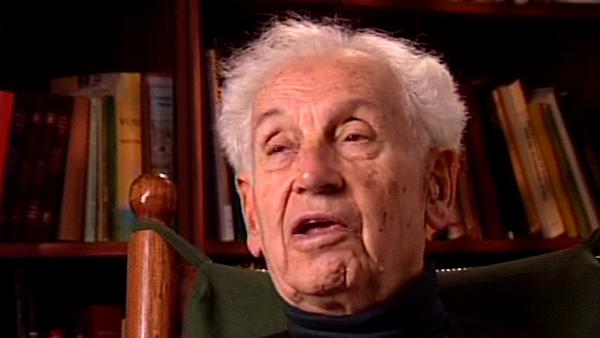 The evolution of ideas
My interests outside of science
1
...
10
11
12
13
14
15
The majority of scientists are specialists in one particular area, and when I say 'majority' I would say the large majority. I have always been different in that respect because I've always been interested in all sorts of things. That goes back to my childhood. Of course, I grew up in a family where books played an important role, my father had shelves full of books on philosophy, on history, on art, my mother was very much interested in art, so I was exposed to a highly varied… intellectual environment, and that stayed with me all my life. I've always been interested… I still today love to go to art galleries when I come to a new city and read on material on subjects that theoretically have nothing to do with my field. But history certainly was something that was very much of interest to my father and to my family, and even in my PhD thesis which was published in 1926, the history of the dispersal of that bird, the Serin finch, from the Mediterranean into northern Europe, was an important component. And, from that point on, every once in a while again, I would do a historical paper. For instance, I discovered that Americans and British thought that Howard in Britain had discovered the concept of territory, and so I published a translation of a paper by a German ornithologist with the name of [Bernard] Altum in the 1830s or thereabouts where he completely, and in great detail, describes territory. This was a historical paper. Later on I did something similar on a behavior person with the name of [Hermann] Reimarus who published in the 18th century. And, of course, my teacher in Berlin, Professor [Erwin] Stresemann, was very much interested in history and published all along historical papers and eventually a wonderful book on the development of the science of ornithology.
The late German-American biologist Ernst Mayr (1904-2005) was a leading light in the field of evolutionary biology, gaining a PhD at the age of 21. He was also a tropical explorer and ornithologist who undertook an expedition to New Guinea and collected several thousand bird skins. In 1931 he accepted a curatorial position at the American Museum of Natural History. During his time at the museum, aged 37, he published his seminal work 'Systematics and Origin of the Species' which integrated the theories of Darwin and Mendel and is considered one of his greatest works.
Title: My interests outside of science
Listeners: Walter J. Bock
Walter J. Bock is Professor of Evolutionary Biology at Columbia University. He received his B.Sc. from Cornell and his M.A. and Ph.D. from Harvard. His research lies in the areas of organismal and evolutionary biology, with a special emphasis on functional and evolutionary morphology of the skeleto-muscular system, specifically the feeding apparatus of birds.
Tags: 1926, Mediterranean, Europe, Great Britain, 1830s, 18th century, Berlin, Erwin Stresemann, Bernard Altum, Hermann Samuel Reimarus, Henry Eliot Howard
Duration: 2 minutes, 40 seconds
Date story recorded: October 1997
Date story went live: 24 January 2008