NEXT STORY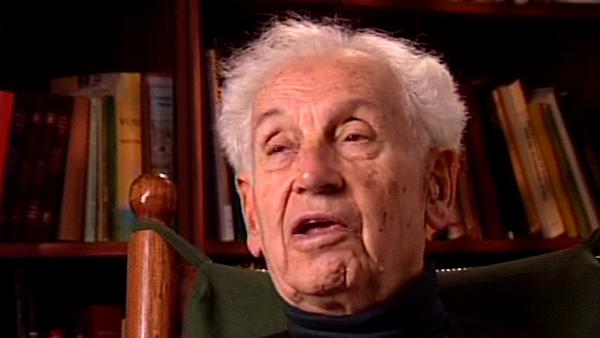 Mass baptism at Snake River valley
1
2
3
4
5
...
15
I finally arrived at Aitape, the first port in Mandated Territory. When I arrived there, everybody was astonished. Nobody had ever come from Dutch New Guinea by land, and the first person I met was a German missionary, and he didn't... I... I was coming through the... through the woods and I came to his house and I stepped in and I found from the natives that his name was... I think was Father Paul, so I... and he was a German missionary, so I stepped inside. There, a white man suddenly appearing before this man, and I said in German, 'Grüß Gott, Vater Paul' and he was utterly astonished. The funniest part was he came from a little village that I knew quite well on the outskirts of Würzburg where I had been as a boy. Well, he hadn't seen another white person in quite some time. From there I went to Aitape and went to the District Officer and he said, 'Now, how did you get here?' And I said, 'Well, I came from... by land from Dutch New Guinea'. Again he couldn't believe it and then he said, 'You're trying to catch the steamer?' And I said, 'Yes, that's why I was rushing. I... I know that that steamer is supposed to be coming in a day or two'. And then he said, 'Oh, but I'm afraid you can't take that steamer'. And I said, 'Why not?' He said, 'Because our regulations say that there has to be a... anybody coming from any foreign place has to have a three weeks quarantine'. And... and... so finally we argued and he was the one who finally had the brilliant idea and said, 'Oh, we call... we include in the quarantine the three weeks that you... that it took you get from the Dutch border to Aitape', and so I was able to get my... onto the steamer.
The late German-American biologist Ernst Mayr (1904-2005) was a leading light in the field of evolutionary biology, gaining a PhD at the age of 21. He was also a tropical explorer and ornithologist who undertook an expedition to New Guinea and collected several thousand bird skins. In 1931 he accepted a curatorial position at the American Museum of Natural History. During his time at the museum, aged 37, he published his seminal work 'Systematics and Origin of the Species' which integrated the theories of Darwin and Mendel and is considered one of his greatest works.
Title: Arriving at Aitape
Listeners: Walter J. Bock
Walter J. Bock is Professor of Evolutionary Biology at Columbia University. He received his B.Sc. from Cornell and his M.A. and Ph.D. from Harvard. His research lies in the areas of organismal and evolutionary biology, with a special emphasis on functional and evolutionary morphology of the skeleto-muscular system, specifically the feeding apparatus of birds.
Tags: Aitape, Mandated Territory of New Guinea, New Guinea, Würzburg
Duration: 1 minute, 56 seconds
Date story recorded: October 1997
Date story went live: 24 January 2008