NEXT STORY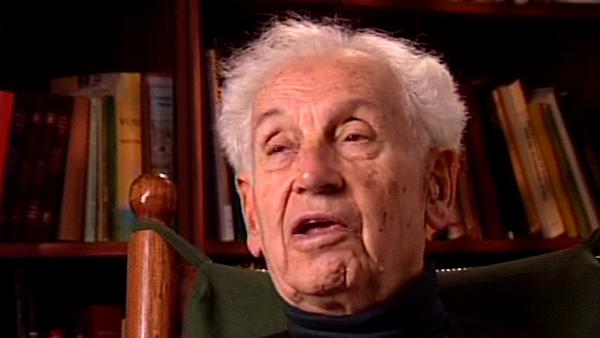 Celebrating the 100th anniversary of On the Origin of Species
1
...
11
12
13
14
15
In these 38 years of the beginning of biology there was a tremendous development of new ideas, new concepts, new knowledge, and then things slowed down and for the next hundred years there was a steady progress but it was rather slow. And one reason of this… one reason for this was that there were so many opposing ideas, so many opposing concepts that had to be overcome – and I will come back to that later – before biology could really harvest what it had seeded… sowed in the years between 1828 and 1866. And there was one thing in particular that, as far as I'm concerned, was slowing down progress, and that was so-called 'physics envy' by so many biologists. They thought they were… sold by the physicists the idea that physics was the only really good science and they wanted to make… so they wanted to make biology just like physics and put it all in terms of laws and mathematics, and of course it didn't work. But they didn't realise that and it took a long time until this feeling that biology got to be just like physics was overcome.
The late German-American biologist Ernst Mayr (1904-2005) was a leading light in the field of evolutionary biology, gaining a PhD at the age of 21. He was also a tropical explorer and ornithologist who undertook an expedition to New Guinea and collected several thousand bird skins. In 1931 he accepted a curatorial position at the American Museum of Natural History. During his time at the museum, aged 37, he published his seminal work 'Systematics and Origin of the Species' which integrated the theories of Darwin and Mendel and is considered one of his greatest works.
Title: Physics envy
Listeners: Walter J. Bock
Walter J. Bock is Professor of Evolutionary Biology at Columbia University. He received his B.Sc. from Cornell and his M.A. and Ph.D. from Harvard. His research lies in the areas of organismal and evolutionary biology, with a special emphasis on functional and evolutionary morphology of the skeleto-muscular system, specifically the feeding apparatus of birds.
Tags: 1828, 1866
Duration: 1 minute, 26 seconds
Date story recorded: October 1997
Date story went live: 24 January 2008