NEXT STORY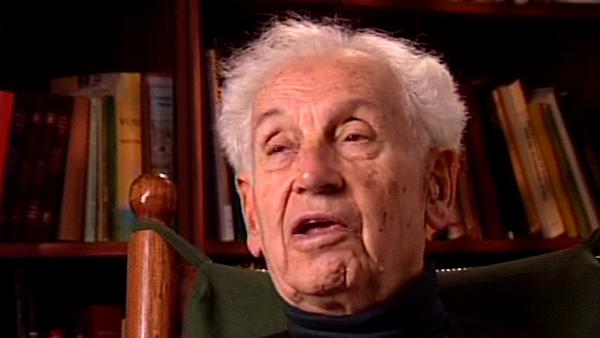 Three theories of evolution
Writing Toward a New Philosophy of Biology and This is Biology
1
...
11
12
13
14
15
Much of what I have just discussed has been discussed in much greater detail and classified properly in two recent books of mine; one published in 1988 entitled Toward a New Philosophy of Biology and actually this was a series of essays, most of which I had published earlier, but all of them ultimately dealing with the philosophy of biology. I didn't have a well organised real, well rounded philosophy of biology and that's why the title was Toward a New Philosophy of Biology, hoping that some philosophers might pick this up. Well, no philosopher did. In the meantime, I'd been doing more thinking about these matters and I published this year a book entitled This Is Biology and the major… well, there are a number of different reasons for this, and a number of different objectives of this book. One of them is to show that biology indeed is very different from physics and physical sciences. Another thing I want to show is that, therefore, biology is an autonomous science, it is a science, but it isn't a science like… like physics and it points… it… it shows what the structure is of biology, it shows that biology has a… in practically all branches of biology there's a relation to mankind and to human concerns, and I illustrate this by the field of ethics, and I show that by properly following the findings of behavioral biology and evolutionary biology we can found… find a foundation for human ethics. And I, in particular, point to the fact that not only the individual is the target of selection, but in social organisms the social group as a whole might have a selective value and a harmonious, internally balanced group consisting of altruistic individuals will be more successful than a group that is torn apart by dissension and in which the egotism of individuals is in the way of cooperative collaboration among the members of the group. So that, actually, the old claim that selection is a strictly egotistical phenomenon and therefore selection is incompatible with altruism, that claim is invalid because it overlooks the fact that the social group also is a target of selection. Now, in this book, This Is Biology, I come to grips with all the… or with most of the major ideologies that have been dominating human… Western human thought during the last 200 years or so and many of which, if not most of which, were to some extent at least, incompatible with biology.
The late German-American biologist Ernst Mayr (1904-2005) was a leading light in the field of evolutionary biology, gaining a PhD at the age of 21. He was also a tropical explorer and ornithologist who undertook an expedition to New Guinea and collected several thousand bird skins. In 1931 he accepted a curatorial position at the American Museum of Natural History. During his time at the museum, aged 37, he published his seminal work 'Systematics and Origin of the Species' which integrated the theories of Darwin and Mendel and is considered one of his greatest works.
Title: Writing "Toward a New Philosophy of Biology" and "This is Biology"
Listeners: Walter J. Bock
Walter J. Bock is Professor of Evolutionary Biology at Columbia University. He received his B.Sc. from Cornell and his M.A. and Ph.D. from Harvard. His research lies in the areas of organismal and evolutionary biology, with a special emphasis on functional and evolutionary morphology of the skeleto-muscular system, specifically the feeding apparatus of birds.
Tags: 1988, Toward a New Philosophy of Biology, This Is Biology
Duration: 3 minutes, 50 seconds
Date story recorded: October 1997
Date story went live: 24 January 2008