NEXT STORY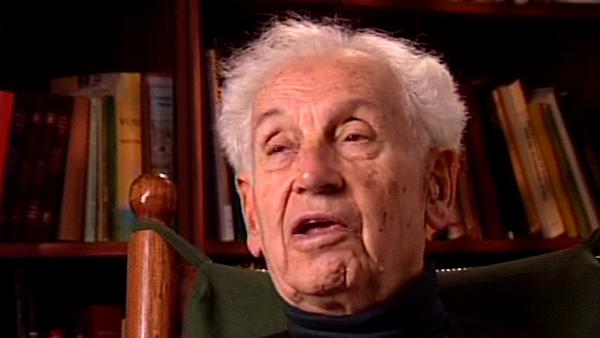 The importance of expeditions
1
...
11
12
13
14
15
I am one of these fortunate people who never looks back. Am I… I'm absolutely future directed and I never… when I make a decision, obviously at the moment when I made the decision all the evidence permitted… indicated I should make that particular decision, so I never question my past decisions. There's only one thing where I… if I had the opportunity to live my life over again where I probably would make a change. And that is that in the period from 1931, when I started at the American Museum [of Natural History], for the next 20 years I most conscientiously did what I was to… told to do at the American Museum: work out these… these bird collections which, after about eight or nine years, no longer really yielded new basic insights… biological insights to me, but, since it was my duty to work out these collections, I did this year after year. I think if I had shortened that period and had earlier begun to work on basic evolutionary theory on history of biology and particularly on the philosophy of biology, I could have achieved some things which now I will never be able to achieve because at age 93, one knows that one doesn't live forever.
The late German-American biologist Ernst Mayr (1904-2005) was a leading light in the field of evolutionary biology, gaining a PhD at the age of 21. He was also a tropical explorer and ornithologist who undertook an expedition to New Guinea and collected several thousand bird skins. In 1931 he accepted a curatorial position at the American Museum of Natural History. During his time at the museum, aged 37, he published his seminal work 'Systematics and Origin of the Species' which integrated the theories of Darwin and Mendel and is considered one of his greatest works.
Title: My only regret
Listeners: Walter J. Bock
Walter J. Bock is Professor of Evolutionary Biology at Columbia University. He received his B.Sc. from Cornell and his M.A. and Ph.D. from Harvard. His research lies in the areas of organismal and evolutionary biology, with a special emphasis on functional and evolutionary morphology of the skeleto-muscular system, specifically the feeding apparatus of birds.
Tags: 1931, American Museum of Natural History
Duration: 1 minute, 29 seconds
Date story recorded: October 1997
Date story went live: 24 January 2008