NEXT STORY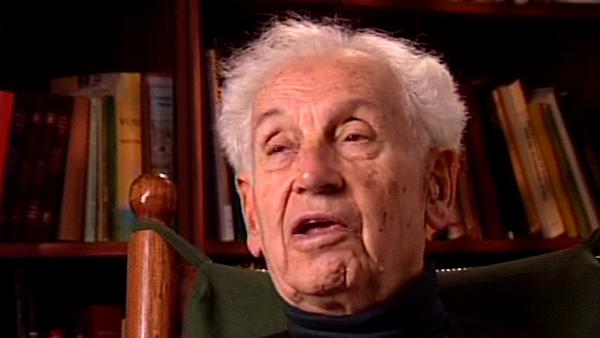 Getting back to Europe. Invitation to work in New York
Oblivious to being hired and fired by Lord Rothschild
1
2
3
4
5
...
15
I finally told the American Museum [of Natural History] people that I had to get home. Hannibal Hamlin, the leader, didn't want to let me go. He had gotten so fond of me and... and relied so much on my knowledge of birds that he tried everything to make me... but I said, 'Nothing doing'. So, I went on a... on a French copra steamer that was going to go to Marseilles from the Solomon Islands, seven weeks again, and while I was on this ship things happened in Europe. Lord [Walter] Rothschild's curator of birds, Doctor [Ernst] Hartert, had a bad pneumonia and he was over 70 and decided to retire. So Rothschild had to get a new curator of birds and he got his network busy and he got in touch the American Museum, with the British Museum, with [Erwin] Stresemann. 'Who would be a good young man to take over the bird curatorship at the... at the museum there?' Well, somehow or other, finally they came up with the name of Ernst Mayr. 'He's not very experienced, but he's been very successful on his expeditions, and that he had three expeditions in New Guinea and he's a go-getter and he will... he will do it and if it doesn't work out you can always fire him'. So Rothschild, as his niece writes in her biography of dear Lord Rothschild, decided to hire me to be the curator of birds. But I was on this copra steamer. I knew nothing about it, there was no way of getting in touch with me, and before I got to Marseilles, things had changed in England. Lord Rothschild was being blackmailed by, as Miriam Rothschild calls it, 'a titled lady', and he suddenly discovered he didn't have the money for a curator of birds. So, before I even reached Marseilles, everything was cancelled and everybody was sorry for me having lost this wonderful job that they wouldn't tell me about it. I learned all this only years later.
The late German-American biologist Ernst Mayr (1904-2005) was a leading light in the field of evolutionary biology, gaining a PhD at the age of 21. He was also a tropical explorer and ornithologist who undertook an expedition to New Guinea and collected several thousand bird skins. In 1931 he accepted a curatorial position at the American Museum of Natural History. During his time at the museum, aged 37, he published his seminal work 'Systematics and Origin of the Species' which integrated the theories of Darwin and Mendel and is considered one of his greatest works.
Title: Oblivious to being hired and fired by Lord Rothschild
Listeners: Walter J. Bock
Walter J. Bock is Professor of Evolutionary Biology at Columbia University. He received his B.Sc. from Cornell and his M.A. and Ph.D. from Harvard. His research lies in the areas of organismal and evolutionary biology, with a special emphasis on functional and evolutionary morphology of the skeleto-muscular system, specifically the feeding apparatus of birds.
Tags: American Museum, Marseilles, the Solomon Islands, Europe, British Museum, New Guinea, England, Erwin Stresemann, Hannibal Hamlin, Walter Rothschild, Ernst Hartert
Duration: 2 minutes, 6 seconds
Date story recorded: October 1997
Date story went live: 24 January 2008