NEXT STORY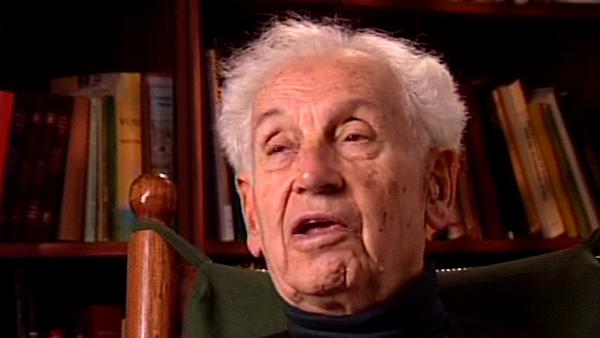 Defining the meaning of Wallace's Line
1
2
3
4
5
6
...
15
A major theme right since… oh, since the last century, in fact since Darwin's time, was whether discontinuous faunas had been in contact at one time, or whether the discontinuity had been established by a colonization across, let us say, a water gap or some other barrier. And many authors, right up to modern times, believed that such colonization across water couldn't happen, and so whenever they found an isolated fauna somewhere on an island they built land bridges to the nearest continent. And I, together with George Gaylord Simpson, was one of the most rigorous opponents to this land bridge building. And here is, for instance, a place where I disagreed with my friend and mentor in many ways, Professor Rensch in Berlin, who explained all the distributions in Indonesia in, as he called it, the Sundaland, by land bridges. And I wrote a special paper in 1944 in which I showed that by all methods of influence one could show that land bridges could not have been involved, and of course the geologists since that time have completely substantiated this. And the same was true for island region in other areas.
The late German-American biologist Ernst Mayr (1904-2005) was a leading light in the field of evolutionary biology, gaining a PhD at the age of 21. He was also a tropical explorer and ornithologist who undertook an expedition to New Guinea and collected several thousand bird skins. In 1931 he accepted a curatorial position at the American Museum of Natural History. During his time at the museum, aged 37, he published his seminal work 'Systematics and Origin of the Species' which integrated the theories of Darwin and Mendel and is considered one of his greatest works.
Title: Discontinuous faunas
Listeners: Walter J. Bock
Walter J. Bock is Professor of Evolutionary Biology at Columbia University. He received his B.Sc. from Cornell and his M.A. and Ph.D. from Harvard. His research lies in the areas of organismal and evolutionary biology, with a special emphasis on functional and evolutionary morphology of the skeleto-muscular system, specifically the feeding apparatus of birds.
Tags: Indonesia, Sundaland, Berlin, 1944, Charles Darwin, George Gaylord Simpson, Bernhard Rensch
Duration: 1 minute, 35 seconds
Date story recorded: October 1997
Date story went live: 24 January 2008