NEXT STORY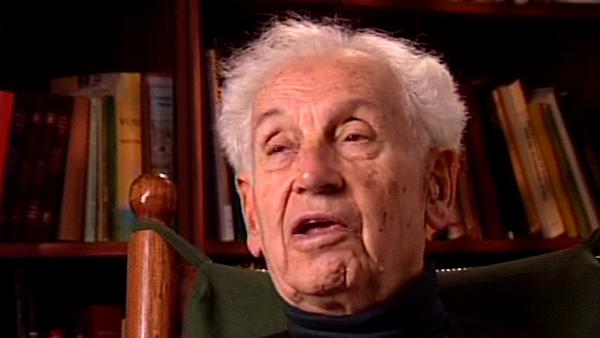 MacArthur and Wilson's formula
The pan-Pacific science conference
1
2
3
4
5
6
...
15
In 1939 I participated in a pan-Pacific science congress in California, and I presented there, for the first time in detail, the findings that I had made in my studies on the island faunas of the Western Pacific. And I showed a number of things. For instance, that there's a constant turnover on each island so that you can… recognize the oldest elements and ever more recent elements until finally a certain percentage of the fauna consists of things that had just colonized it and had not yet changed from their taxonomic status in the source area. I also showed, of course, that the larger an island the… larger the number of species. I also showed that the percentage of endemic species on an island rose in a straight line… graph with the size of the area. All these are findings that eventually were used by McArthur and Wilson in their so-called theory of island biogeography.
The late German-American biologist Ernst Mayr (1904-2005) was a leading light in the field of evolutionary biology, gaining a PhD at the age of 21. He was also a tropical explorer and ornithologist who undertook an expedition to New Guinea and collected several thousand bird skins. In 1931 he accepted a curatorial position at the American Museum of Natural History. During his time at the museum, aged 37, he published his seminal work 'Systematics and Origin of the Species' which integrated the theories of Darwin and Mendel and is considered one of his greatest works.
Title: The pan-Pacific science conference
Listeners: Walter J. Bock
Walter J. Bock is Professor of Evolutionary Biology at Columbia University. He received his B.Sc. from Cornell and his M.A. and Ph.D. from Harvard. His research lies in the areas of organismal and evolutionary biology, with a special emphasis on functional and evolutionary morphology of the skeleto-muscular system, specifically the feeding apparatus of birds.
Tags: 1939, Pacific Ocean, California, Edward Osborne Wilson, Robert MacArthur
Duration: 1 minute, 29 seconds
Date story recorded: October 1997
Date story went live: 24 January 2008