NEXT STORY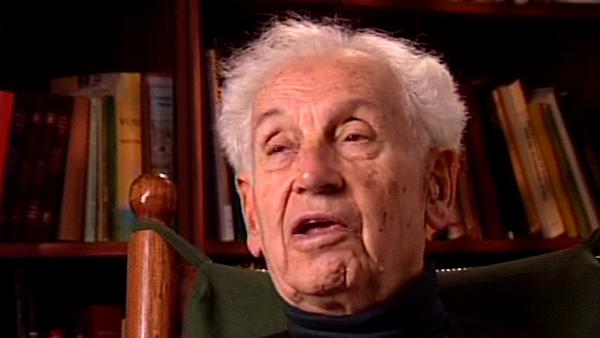 The decision to leave medicine and go to Berlin
1
...
3
4
5
6
7
...
15
I wasn't very long at the American Museum [of Natural History] when one of the wealthy donors of the Museum proposed a sailing trip through Polynesia and all the way to New Guinea and invited me to join him. And so I had to go to the head of the… the chairman of the department, Dr Chapman, and I said, 'Here, Dr Chapman, I have this wonderful invitation. Can I take four months off in order to participate in this?' Or whatever it was. And he looked at me and he said, 'Well, I'm sorry to disappoint you, young man, but the money that was given to us to keep you going is strictly to work out these collections and you cannot just take time off. You are not here regular staff member, and you're here for the specific objective of working up the collections'. Well, I had to say no to this wealthy gentleman who wanted me to come with him to the… on his sailing ship and continue work on the collections. And, of course, Chapman had been entirely right. I mean, I'm not even questioning that, and furthermore I even admit that going out on this sailing trip probably would not have added very much to my knowledge and understanding of birds and evolutional systematics, while in the time that I was chained to my desk working very hard on these collections I probably learned a great deal more. And… I have never, since I came back from New Guinea, been out on another expedition and I don't think, as I have just said, that I thereby lost a great deal. I lost a great deal of fun, but I didn't lose very much scientifically, is at least my feeling.
The late German-American biologist Ernst Mayr (1904-2005) was a leading light in the field of evolutionary biology, gaining a PhD at the age of 21. He was also a tropical explorer and ornithologist who undertook an expedition to New Guinea and collected several thousand bird skins. In 1931 he accepted a curatorial position at the American Museum of Natural History. During his time at the museum, aged 37, he published his seminal work 'Systematics and Origin of the Species' which integrated the theories of Darwin and Mendel and is considered one of his greatest works.
Title: Chained to the desk
Listeners: Walter J. Bock
Walter J. Bock is Professor of Evolutionary Biology at Columbia University. He received his B.Sc. from Cornell and his M.A. and Ph.D. from Harvard. His research lies in the areas of organismal and evolutionary biology, with a special emphasis on functional and evolutionary morphology of the skeleto-muscular system, specifically the feeding apparatus of birds.
Tags: American Museum of Natural History, Polynesia, New Guinea
Duration: 2 minutes, 3 seconds
Date story recorded: October 1997
Date story went live: 24 January 2008