NEXT STORY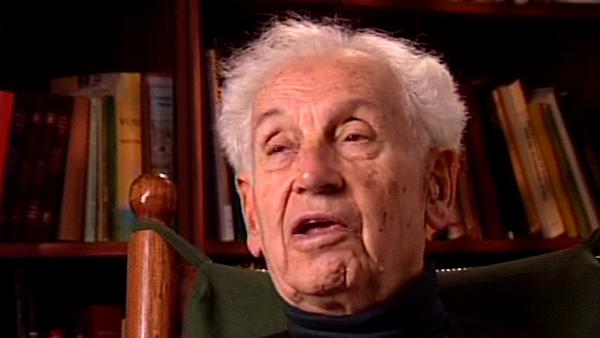 Robert Cushman Murphy
Rothschild, Hartert and Jordan
1
...
3
4
5
6
7
...
15
Rothschild was on very good terms with the director of the British Museum in London, and the director there was an ichthyologist with the name of [Albert] Günther, of German origin. And so when Rothschild asked… when he established his museum and… and asked for the names of curators, one in birds and one in insects, Günther suggest two Germans: one was [Ernst] Hartert the ornithologist, the other was… was Karl Jordan, the entomologist. Now Hartert was a good ornithologist, but he never wrote any general papers that would go into the history of… of biology. He was very influential in… in teaching [Erwin] Stresemann how to be an ornithologist, and he was a generally nice person. But Karl Jordan, who had actually a PhD which Hartert didn't have, at the University of Marburg or Giessen, some place like that, Jordan wrote a whole series of very important paper. For instance, one in which he showed how unlikely sympatric speciation is, and then Jordan was perhaps the first person to spell out the biological species concept, except he didn't provide a concrete definition, so we can never quote him as the man established the biological species definition. He was a very… experienced evolutionist. He… he was a great believer at a time when very few people were, a great believer in Darwin's natural selection. And I once wrote a lengthy paper in which I pointed out all the achievements of Karl Jordan and his contributions to evolution, to systematics and to general biology. He's the… he was by far the greater mind among those two. Hartert was good work horse, but Jordan was really an outstanding biologist.
The late German-American biologist Ernst Mayr (1904-2005) was a leading light in the field of evolutionary biology, gaining a PhD at the age of 21. He was also a tropical explorer and ornithologist who undertook an expedition to New Guinea and collected several thousand bird skins. In 1931 he accepted a curatorial position at the American Museum of Natural History. During his time at the museum, aged 37, he published his seminal work 'Systematics and Origin of the Species' which integrated the theories of Darwin and Mendel and is considered one of his greatest works.
Title: Rothschild, Hartert and Jordan
Listeners: Walter J. Bock
Walter J. Bock is Professor of Evolutionary Biology at Columbia University. He received his B.Sc. from Cornell and his M.A. and Ph.D. from Harvard. His research lies in the areas of organismal and evolutionary biology, with a special emphasis on functional and evolutionary morphology of the skeleto-muscular system, specifically the feeding apparatus of birds.
Tags: British Museum, London, University of Marburg, University of Giessen, Walter Rothschild, Karl Jordan, Ernst Hartert, Erwin Stresemann, Charles Darwin, Albert Günther
Duration: 2 minutes, 10 seconds
Date story recorded: October 1997
Date story went live: 24 January 2008