NEXT STORY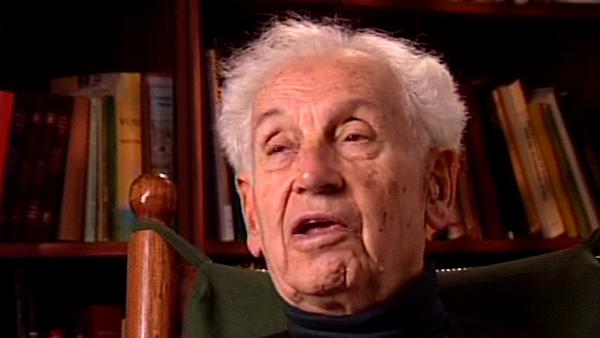 Learning molecular biology at Cold Spring Harbor
Experimenting with imprinting on hatchlings
1
...
5
6
7
8
9
...
15
I was very much interested in pair formation in birds because this plays an important role in speciation. And… there was the question which Konrad Lorenz had raised: does a young hatchling – a bird comes out of the egg – know what its parents are like, or does it learn that by… does it even know it… to what species it belongs, so to speak, will it recognize other birds as members of their own species, or do they have to learn that while they're being raised by their parents? And Lorenz showed that the greylag goose certainly learns it by a process he… he called prägung which means imprinting, so that the freshly hatched little greylag gosling follows the first moving object that also makes certain noises, and then adopts that as its… its species figure, first as its parents' figure and then eventually its species figure. And very often these imprinted birds will not mate with members of their own species because they are imprinted on the human species, if you [sic]… So I decided to take some simple, easily gotten aviary birds, I still did finches and I had three species with which I worked. And I had them in cages at the Museum [of Comparative Zoology] and tried to… arrange in such a way that they wouldn't see that their own species, the hatchlings, when they grew up, and then see whether they would become imprinted or not. Well, to make a long story short, without having a special assistant doing all the… all the actual work of raising them and feeding them and taking care of them, I just couldn't do it, so I abandoned the project. And I told this to [Theodosius] Dobzhansky – my friend Professor Dobzhansky at Columbia University – and he said, 'Look here, why don't you do that with drosophila? It's much easier'. So, he said I'm going to spend next summer' – this was the summer of 1943 – 'I'm going to spend next summer in Cold Spring Harbor and why don't you spend the summer there, too and… and we do… we make this experiment?' I introduce you… the drosophila technique and you do what you want to do. And so it was done and then my family joined me too. And I spent the summer there and this happened I think for another year, and then Dobzhansky no longer would come in the summer, but my family was so enchanted with Cold Spring Harbor and spending the summer there that we, from that point on until the year 1952, spent every summer in Cold Spring Harbor, I believe.
The late German-American biologist Ernst Mayr (1904-2005) was a leading light in the field of evolutionary biology, gaining a PhD at the age of 21. He was also a tropical explorer and ornithologist who undertook an expedition to New Guinea and collected several thousand bird skins. In 1931 he accepted a curatorial position at the American Museum of Natural History. During his time at the museum, aged 37, he published his seminal work 'Systematics and Origin of the Species' which integrated the theories of Darwin and Mendel and is considered one of his greatest works.
Title: Experimenting with imprinting on hatchlings
Listeners: Walter J. Bock
Walter J. Bock is Professor of Evolutionary Biology at Columbia University. He received his B.Sc. from Cornell and his M.A. and Ph.D. from Harvard. His research lies in the areas of organismal and evolutionary biology, with a special emphasis on functional and evolutionary morphology of the skeleto-muscular system, specifically the feeding apparatus of birds.
Tags: Columbia University, Cold Spring Harbor, 1952, Konrad Lorenz, Theodosius Dobzhansky
Duration: 2 minutes, 55 seconds
Date story recorded: October 1997
Date story went live: 24 January 2008