NEXT STORY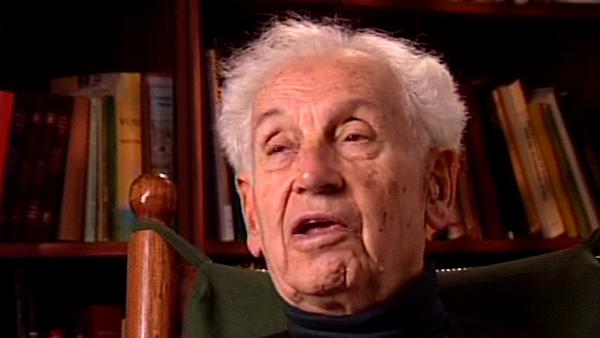 Founding the Evolutionary Society and establishing the journal
The position of evolution in American science
1
...
5
6
7
8
9
...
15
Evolution was really very much neglected. I mean, you would have a list of the different fields of biology, and evolution would not be included. There was no society for evolution, there was no journal dealing with evolution, most colleges and universities had no courses dealing with evolution, and those of us who were very much interested in evolution were quite dismayed about it and wondered what to do about it. In particular this was true for the naturalists because the geneticists did have their organizations where evolution at least was discussed quite frequently. And there was first an endeavor to start a society for the study of speciation which from the title alone you can see that… no naturalists were behind this and there were… but the person who was trying to do this was not very energetic and finally the war came also and it fell asleep. And then… there was a… organization established by the National Research Council, a committee on the common problems, primarily was bring… to bring together the palaeontologists with the other evolutionists. And then, again the war broke out and in order to keep some contact on the members I suggested a informal news bulletin going around where people could raise evolutionary questions which somebody else in this group then would try to answer. And I was the editor of this and I brought out, I think, four issues during the war and by the end of that time with Dobzhansky's book out, my book out, and in England Julian Huxley having brought out a book and in Germany [Bernhard] Rensch having brought out a book, it was becoming… and [George Gaylord] Simpson having brought out a book in 1944, it was becoming quite clear that this gap between the different camps of the evolutionists had now been closed, that they really were agreeing with each other, were talking the same language.
The late German-American biologist Ernst Mayr (1904-2005) was a leading light in the field of evolutionary biology, gaining a PhD at the age of 21. He was also a tropical explorer and ornithologist who undertook an expedition to New Guinea and collected several thousand bird skins. In 1931 he accepted a curatorial position at the American Museum of Natural History. During his time at the museum, aged 37, he published his seminal work 'Systematics and Origin of the Species' which integrated the theories of Darwin and Mendel and is considered one of his greatest works.
Title: The position of evolution in American science
Listeners: Walter J. Bock
Walter J. Bock is Professor of Evolutionary Biology at Columbia University. He received his B.Sc. from Cornell and his M.A. and Ph.D. from Harvard. His research lies in the areas of organismal and evolutionary biology, with a special emphasis on functional and evolutionary morphology of the skeleto-muscular system, specifically the feeding apparatus of birds.
Tags: United States National Research Council, World War II, England, Germany, 1944, Theodosius Dobzhansky, Julian Huxley, Bernhard Rensch, George Gaylord Simpson
Duration: 2 minutes, 33 seconds
Date story recorded: October 1997
Date story went live: 24 January 2008